GILLIN, Murray
2021 Distinguished Alumnus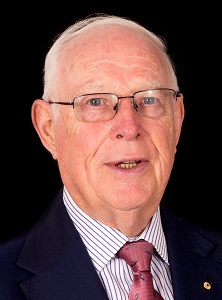 Degree
Diploma of Metallurgy
Graduation year
1956
Murray Gillin is celebrated for his work in engineering, defence science and technology, innovation, and professional education. Graduating with a Diploma of Metallurgy from the School of Mines, Ballarat, in 1956, Murray later completed his PhD in Materials Engineering at the University of Cambridge, United Kingdom. Later application of his PhD work on graphite carbon fibres resulted in carbon fibre composite tail assemblies for the Boeing 787 Dreamliner in 1999 and a new aircraft industry in Australia.
Murray spent over twenty years in the Defence Science and Technology field as a metallurgist, research scientist, Defence Science and Research Attaché in the Australian Embassy Washington, USA; and Head of Laboratory Programs at Defence Science and Technology Organisation. He then moved into university education as Dean of Engineering at Swinburne University of Technology before his appointment to Pro Vice-Chancellor.
In 1992 Murray was elected President of the Institution of Engineers, Australia; in 1994 elected a Fellow of the Academy of Technological Sciences and Engineering; and in 1995 President of the World Association for Co-operative Education. In 1997, he was awarded a Member of the Order of Australia for his work in engineering, innovation, and ongoing professional education.