DUONG, Hoai Nhung
Degree
Masters of Business Administration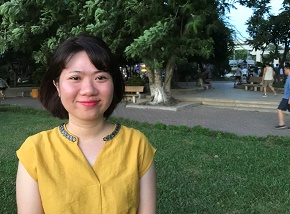 Graduation year
2010
Current position
Lecturer in Human Resources Management
Employer
Foreign Trade University, Vietnam
Duong Hoai Nhung completed her Master of Business Administration degree at the FedUni Mt Helen Campus in Ballarat in 2010. After graduating, she returned to Hanoi to develop her career as a lecturer in Human Resource Management at Foreign Trade University.
'FedUni is a great learning and living environment,' says Nhung. 'The campus was nice, I had really great teachers and everyone was helpful and supportive. Ballarat is more affordable than bigger Australian cities, and there's more opportunity to mix with local and international students from all over the world.'
Nhung first found out about FedUni when she visited an Australian education fair in Hanoi. 'It wasn't a very well-known university, but I did some research and discovered it was really highly rated for teaching. I also got in touch with some Vietnamese students who were already studying there, and everyone had good things to say. I applied, and the process was simple.
'When I arrived in Ballarat, I thought it was a very peaceful place, very different from Hanoi, where life's always noisy and busy. The people in Ballarat were really helpful. I was impressed to see that local people volunteered to support international students by arranging trips and clubs for us to take part in. Friends of mine who studied in bigger cities didn't always have that experience.
'FedUni was also a great place to develop my knowledge and my English and use that to improve my career. I'm now able to teach Human Resource Management in both Vietnamese and English, which has really helped me in my academic work.'