COATES, Matthew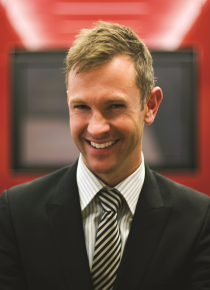 Degree
Bachelor of Commerce / Bachelor of Computing
Graduation year
2000
Current position
Managing Director - Cloud, Global Sales and Strategy
Employer
Accenture
Biography
Matthew is the global lead for Accenture's Cloud Sales and Strategy capability, with responsibility for sales and delivery of work to help clients understand the impact of Cloud Computing on their business and how to integrate this new technology into their existing business model. Prior to transitioning to this role, Matthew was a Managing Director in Accenture's Information Technology Strategy practice which focuses on helping client's IT organisations achieve high performance through focusing on their operating model, cost reduction and strategic planning and growth. He was also responsible for delivery and ongoing relationship management at a number of key clients in the United Kingdom.
Matthew has led large-scale IT transformation and IT projects, primarily for public services clients in the United Kingdom and Asia Pacific. During his career, he gained valuable experience while working in the Health, Revenue, Customs, Agriculture, Justice and Defence sectors for Accenture's Health and Public Service practice.
From September 2005 until being appointed to his current role in March 2010, Matthew was responsible for Accenture's system integration and application outsourcing work at one of Accenture's top 30 clients in the UK. This responsibility encompassed the delivery of a complex transformation programme and delivery of a multi-release ERP implementation of a high-profile and critical application. Matthew was appointed a Partner in 2009.
Before joining Accenture, Matthew worked for IBM and Arthur Andersen as a security risk management consultant. Matthew holds a Bachelor's degree in Computing and a Bachelor's degree in Commerce (Accounting and Law).
What are some of your career highlights?
I think the highlight of my career was being promoted in 2009 to partner in the London office, nine years after graduating from University. It was something I had set my sights on and managed to achieve at a
relatively speedy pace.
Describe the most enjoyable and challenging aspects of your job
The best part about my job is working with highly motivated and intelligent people - I work with some of the best people in the consulting industry and they keep you on your toes, thinking and challenging you.

I really enjoy the project and client based work also - it means that you are always getting a new challenge to solve for a client.
What are your strongest memories while you were studying at the University of Ballarat?
UB is a great learning environment that fosters learning and collaboration between staff and students. Looking back, the staff created a great learning environment where they took a personal interest in the development and learning of each student.
Do you have any advice about life after study to pass on to current students?
Make sure that you pursue a career that you enjoy - if you do this - you will excel in whatever you do. Also, when you start your new job, don't be afraid to ask for help and guidance in whatever task you set.