Alumnus returns to Ballarat for exclusive solo exhibition
Ballarat-born and London-based, David Noonan is one of Australia's most celebrated contemporary artists, and also one of the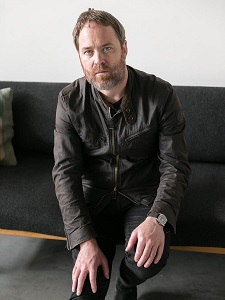 most accomplished artists and alums of Ballarat University College, now Federation University, where he studied ceramics, photography and painting.
Graduating with a Bachelor of Visual Arts (Painting) in 1989, David described his studies as 'an inspiring time, with every art form covered and treated with passion and rigour.' Since graduating David has shown at some of the world's most prestigious art venues with his work attracting the attention of influential international curators and collectors. Until 28 June 2020 his latest solo exhibition 'David Noonan: Stagecraft' will show exclusively at the Art Gallery of Ballarat.
Stagecraft brings together silkscreen collages on fabric, tapestries and film which David has made between 2015 and 2020. Noonan repurposes found photographic images to create works which are ambiguous, often with a focus on a solitary haunting figure. These collage works have a shadowy sense of mystery, while the layering of the figurative and abstract imagery creates a tension between abstraction and representation, and between truth and illusion.
Producing works in a range of media including painting, photography, film, print-making, collage and sculpture, David's work involves a complex layering of historical and cultural references. He is interested in combining art and traditional craft techniques and animals, actors and masked figures are recurring motifs that imbue his works with a magical atmosphere.
Noonan has been the subject of solo exhibitions in Australia, the United States and the United Kingdom and he has been included in notable survey exhibitions and biennials. His work is in the permanent collections of numerous museums in Australia and internationally.
He has held lecturing positions at various universities and has always had a keen sense of giving back to the arts community. He has held visiting artist positions at Goldsmiths and the Royal Academy in London (both world-leading fine art teaching/practice-based research centres) and runs a not-for-profit gallery (Mackintosh Lane), providing a space for invited artists and curators to experiment and realise new projects.
David Noonan: Stagecraft is exclusive to the Art Gallery of Ballarat. David Noonan is represented by Anna Schwartz Gallery (Melbourne), Roslyn Oxley9 (Sydney) and Modern Art (London).