Alumna wins Community Event of the Year in Australia Day Awards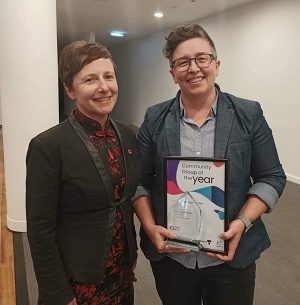 Congratulations to alumna Marcia King on being recognised in this year's City of Ballarat Australia Day Awards. Marcia graduated with a Diploma of Project Management in 2010 and won the Ballarat Community Event of the Year for her role in Roller Skate Fit Club. Marcia was presented the award for her outstanding contribution to the club.
Up to 40 people meet twice a week to strap wheels to their feet and helmets to their heads to participate in Ballarat's Roller Skate Fit Club. The volunteer club provides coaching for skaters of all ages and skill levels and also promotes fitness and fun in a safe environment. Open to children, families, seniors and anyone in between, the club has cultivated an atmosphere that strongly attracts women to become more active. It is also a safe and inclusive space for LGBTQI+ members. The Roller Skate Fit Club program now also features the Mini Rollers program for primary school aged children and the Skate High program for teenagers.
Of the award, Marcia said, I would like to thank everyone who has supported our group and community. Our group is about more than just Rollerskating. It's about providing an inclusive space where people feel comfortable and feel like they belong and it's about encouraging physical activity in regional Victoria in a format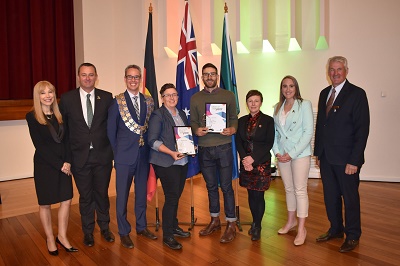 that is different from the traditional gym or boot camp. It's evolved into something we never could have expected and I accepted this award on behalf of all members of the group. I have no good words for how proud I am of all the volunteers who keep this club going, for my partner in crime all this time, Belle 'Wheelie' McDonald and every amazing person who walks through our doors. We are humbled by this award and by how many people participate in our club each year. This is for everyone involved.
In addition to her involvement in the skating world, Marcia is also a talented artist creating custom and commissioned artworks. She has participated in multiple solo and group exhibitions and has work in private collections in Australia, America and the UK.
I draw, I paint, I print. My love and focus is portraits and the human form. My work can be expressive and emotive or more classical and refined. My work and styles are emotive, changing based on my own emotions and the subject I'm drawing or painting, Marcia says.