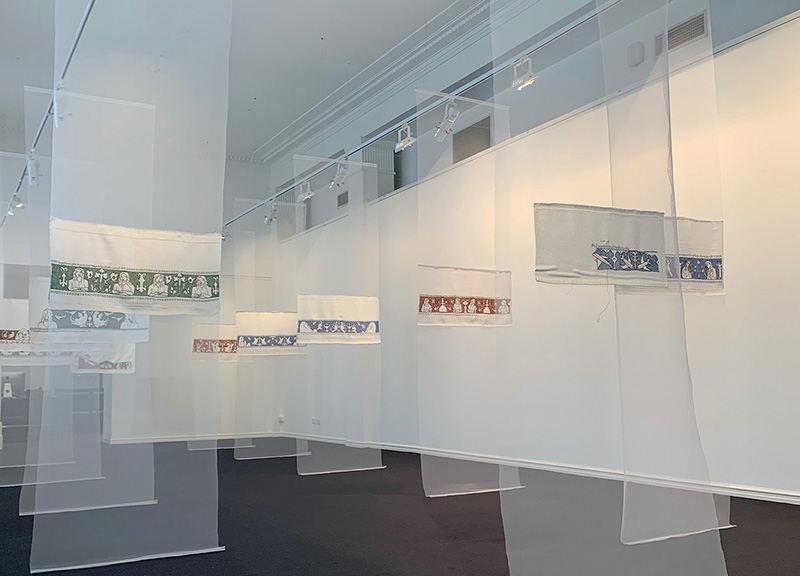 FIONA CRAWFORD: WHEN YOU GO LOOKING FOR ME, I AM NOT THERE
18 FEB - 26 FEB 2021
Following residencies in Assisi, Italy in 2016 and 2019, inspired by the beauty and intrigue surrounding the medieval embroidery tradition of 'Punto Assisi' still practised today, Fiona Crawford's contemporary textiles subvert and transgress conventions and reinterpret the ubiquitous subject of 'women's work'
Derived from the exterior of medieval San Rufino Cathedral, Punto Assisi's highly stylised pattern and form is unique - the subject matter empty of detail, with the outlined negative space seeming to echo the absence of information and who the female artisans were.
Invisible and indispensable, the names and faces of the female makers were rarely documented, existing within the dominant male hegemonic ideologies of the time, undervalued and seen as only undertaking 'women's work'.
Using vintage linen and thread, the combination of traditional and contemporary imagery, text, and the concept of drawing with thread, Fiona Crawford's work investigates the notion of absence and at the same time honours the unknown female makers of this now highly prized and ancient art.
This exhibition constitutes the visual outcomes emerging from a practice-led Masters research project at the School of Arts, Federation University, Australia.
Fiona Crawford is supported by an Australian Research Training Program (RTP) Fee Offset Scholarship through Federation University.
Image: Fiona Crawford exhibition installation view Courtesy the artist