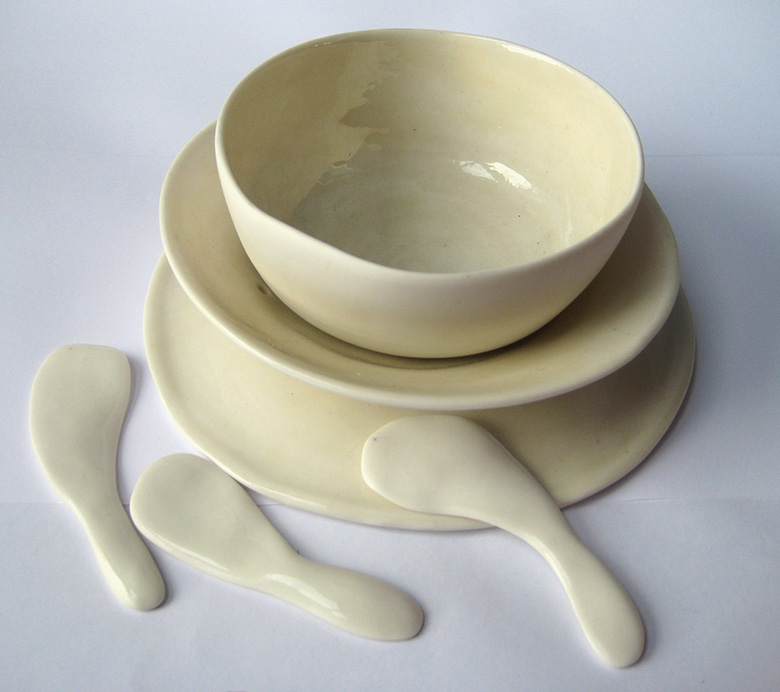 ECLECTIC YIELD
28 Apr – 15 May 2010
TAFE Ceramics & Visual Arts Award Exhibition
Over the past 20 years a range of works have been acquired by the Directors of TAFE from the EYE (End of Year) exhibition from the Diploma of Ceramics and Visual Arts for the University of Ballarat Permanent Collection.
Since 2002, the Deputy Vice-Chancellor of the University of Ballarat, Prof Terry Lloyd has continued this tradition of custodianship, in consultation with staff and the Head of the Arts Academy, to acquire an outstanding and distinctive piece of work by a graduate of each program.

This selection of works, being shown for the first time, demonstrates the diversity of expression and high standards of Diploma graduates who have undertaken TAFE studies, together with the depth of study and the high level of teaching within the University.
Image: Bridget Bodenham, Ceramic Sculpture (Bowl, Dish, Plate & Spoons), 2006, porcelain. Courtesy the artist