News
Welcome boost for regional students
Posted: Wednesday 20 March 2019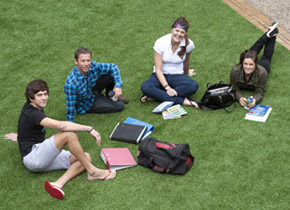 Federation University Australia welcomes a new Federal Government scheme to encourage more students to study at regional universities by providing scholarships and better visa conditions.
The new program will provide more than 1,000 scholarships of up to $15,000 per year for both domestic and international students who study at a regional university.
International students studying in a regional area will also be able to receive an extra year of temporary residency in Australia after they complete their studies, during which they can work unlimited hours.
This will help significantly increase the number of domestic and international students studying at Federation University's Ballarat and Gippsland campuses, which also benefits the local communities.
Almost seven out of ten Federation University graduates go on to live and work in a regional area, helping tackle skill shortages, boosting the local economy and contributing to the community.
This includes international students who enrich our local communities with different cultures and insights from around the world.
International student enrolments at the University's Ballarat and Gippsland campuses have increased significantly in 2019, compared to the previous year.
Allowing international students at regional campuses an extra year of temporary residency to work once their study is complete will help attract even more international students to the University.
This will benefit the local business and economies in Ballarat and Gippsland where Federation University's regional campuses are located.
Quotes attributable to Vice-Chancellor and President Professor Helen Bartlett:
"The majority of our students go on to live and work in regional areas, so this scheme will not only attract more students to our Ballarat, Gippsland and Wimmera campuses – it will help boost the local economies as well."
"Financial issues are one of the main reasons many of our domestic students drop out of university. Providing these scholarships will help the recipients finish their studies and make a real difference to their lives."
"International students enrich our communities with different cultures and insights, as well as a desire to work and contribute to the community. Improving their visa conditions will benefit not only the students but local employers and the broader community."