News
FedUni student wins national scholarship for VET teaching
Posted: Friday 14 December 2018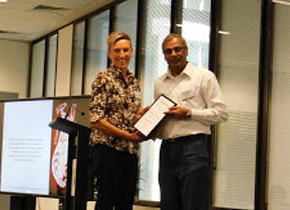 Federation University Australia student Mani Nallasamy Gounder has won the 2018 scholarship for students of VET (Vocational Education and Training) teacher-education programs at universities.
Established in memory of Ros Brennan Kemmis, a well-known and influential VET teacher-educator, the award funds a student to attend the annual conference of the Australian Council of Deans of Education Vocational Education Group (ACDEVEG), and to undertake professional development in VET pedagogy.
Applicants are required to show how their teaching makes a difference with their learners.
Mani is a teacher in electrical engineering signals and systems at Box Hill Institute in Melbourne. He studied alongside colleagues over an 18-month period, on top of full-time work, to attain his Associate Degree of Training and Education.
"Mani was an outstanding student in our program, willing to think deeply about issues and striving to use his learning to improve his teaching practice. The award is well-deserved," Professor Erica Smith, the convenor of the Associate Degree, said.
"Mani had already presented at a conference overseas using work he had done during his degree.
"This award confirmed the findings of a recent ARC-funded research project, which I led, that university qualifications in VET teaching make a significant difference to VET teachers' confidence and teaching approaches."
Mani is shown here at the ACDEVEG conference recently in Melbourne, accepting his award from Dr Jill Downing of the University of Tasmania, who was chair of the selection panel for the 2018 scholarships.