News
New Kindergarten program at FedUni Children's Centre Gippsland
Posted: Thursday 8 November 2018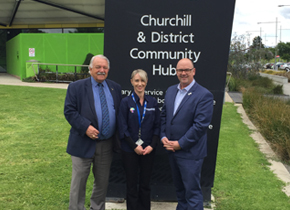 The FedUni Children's Centre in Gippsland is delighted to offer the Education and Early Childhood Development Funded Kindergarten program, commencing in 2019.
The program, guided by the Early Years Learning Framework for Australia, will be delivered by a Bachelor-qualified early childhood teacher and engage each child in effective learning, promoting communication, thinking, positive relationships, identity and wellbeing.

"We are very excited to expand our curriculum and now offer the funded kindergarten program at our Churchill centre," Jodie Petesic, FedUni Children's Centre Coordinator, Gippsland, said.

"Children's learning is a fundamental element in early childhood and the introduction of the kindergarten program will allow us to extend and enrich the learning of children from birth through to school age."

The program will be offered in a long day care setting which allows children the flexibility to attend kindergarten across full days, Monday to Friday.
"We are currently offering the funded kindergarten program at our Mt Helen and SMB campuses are delighted to now be able to offer this service to children of students, staff and community members at our Gippsland campus," Colin Marshall, Director of Campus Life, said.
For more information or to enrol your child, please visit
www.federation.edu.au/childrens-centres