News
Ballarat Tech School wins leading education design award
Posted: Wednesday 24 October 2018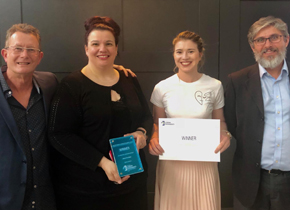 The world-class design of Federation University Australia's Ballarat Tech School has been recognised by it winning the Innovative Education Initiative category as part of the 2018 Outstanding Learning Environments Award.
"The presentation of the award to the University and Patrick Architects is testimony to the vision and dedicated effort of many people in the design and construction of Ballarat Tech School," Sofia Fiusco, Director of the School, said.
"The awards showcase the significant contributions to learning environments by schools, educators, students and community organisations.
"Ballarat Tech School is designed to bring education and industry together. The large open spaces and high tech equipment allow students and teaching staff to interact easily," Ms Fiusco said.
"Everyone involved in the creation of Ballarat Tech School should be congratulated on their worthy contribution to this major award."
Since operation in February, the Ballarat Tech School has hosted more than 3600 students undertaking learning programs and engaging in STEM.
"A highlight has been the use of the space to host community talks, after-school programs, professional development, exhibitions and the connection to industry who have hired the space for meetings and events," Ms Fiusco said.
"It is important to us that all who enter the space are inspired and engaged to be curious about the world around them. The use of technology can be a positive disrupter in improving how we live."