News
FedUni and Casey Cardinia Libraries form partnership
Posted: Thursday 18 October 2018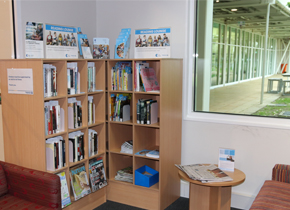 Federation University Australia and Casey Cardinia Libraries have formed an exciting partnership that will see new library services at the Berwick Campus.
"Our libraries today bring people together to learn, to relax and to discover," Sue Owen, University Director of Library and Learning Spaces, said.
"The special CCL - FedUni Library partnership that we have developed is unique in its vision. Together we are committed to promoting and enabling lifelong learning through actively sharing spaces and resources.
"Our collaboration will positively impact our broader communities, now and into the future."
The new services will include:
a dedicated reading lounge
a collection of recreational books and magazines – free for students and the community
Five CCL computers for easy access to CCL resources, services and development programs
assistance by Federation University Library staff for students to become active CCL members
"Casey Cardinia Libraries are delighted to be working with FedUni to support people as they learn and grow," Chris Buckingham, Chief Executive Officer of Casey Cardinia Libraries, said.
"It is a wonderful partnership that will draw on the strengths of our organisations to deliver a great outcome for our community."