News
Ballarat International Foto Biennale features several FedUni entries
Posted: Wednesday 16 August 2017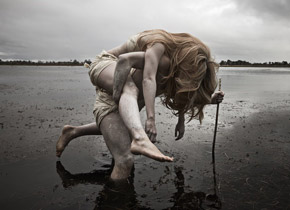 Photographic exhibitions by Federation University Australia staff and students will be a major feature of this year's Ballarat International Foto Biennale.
To be held from 19 August to 17 September, the Foto Biennale will highlight the latest work from many leading photographers.
"We are thrilled to support the extraordinary program of the Ballarat International Foto Biennale," Bryce Ives, Director of the Arts Academy, said.
"The Arts Academy is hosting a range of exhibitions, talks, and workshops, including fringe exhibitions created by our students.
"Most importantly our Visual Arts, Performance and Design students have an entire month to witness and experience an array of outstanding photographic works.
"From David LaChapelle at the Art Gallery of Ballarat to Maziar Moradia at our very own Post Office Gallery, our students will be exposed to an array of the best and brightest contemporary artists from around the globe."
There are three exhibitions from FedUni staff and students.
JILL ORR: CRACKS IN THE SEAMS
19 August – 17 September
Mon–Sun
8am–6pm
Arts Academy
Helen MacPherson Smith
The historic overlay of original 1920s boat houses meets 21st century performance in Cracks in the Seams, a performance installation to be performed in the waters of Lake Wendouree for a photo-shoot. Trust and tension, control and release and interdependence all meet in this project. Arts Academy dance students and alumni will perform the work under the tutelage and direction of performance artist and director, Jill Orr. A photographic installation of the production will be part of the 2017 Ballarat International Foto Biennale, viewable in the corridors of the Helen McPherson Smith Theatre (see picture).
https://ballaratfoto.org/events/jill-orr/
FEDUNI STUDENTS: WHY DO YOU PLAY?
19 August – 17 September
Mon–Sun
8am–6pm
SMB Campus
What motivates young people to do the things they do? What drives a love of sport in teenagers?
The street poster exhibition, Why Do You Play? answers these questions through a series of photographs and graphics of aspiring young footballers, both male and female, all the while dissecting the relationship between art and sport.
A collaboration with the Federation University Australia Communication Design students and Greater Western Victoria Rebels Football Club, this exhibition explores and celebrates personal identity and ambition among young sportspeople today.
https://ballaratfoto.org/events/federation-university-students/
TODD WALKER: PARTS UNKNOWN: ITALY
19 August – 17 September
Arts Academy
New North Building
Photographs have the capacity to inspire, reflect and connect. The ability to capture images and record them as a moment in time makes photography the ultimate form of documentary art, and black and white photography brings new meaning to images. Artist Todd Walker captured these photographs over a four-week period, reflecting the unknown parts of Italian life in simple, uncomplicated imagery.
In addition the University will host the following exhibitions or workshops from other artists:
MAZIAR MORADI: I AM BECOMING GERMAN
19 August - 17 September
Arts Academy
Post Office Gallery
'I am becoming German' (Ich Werde Deutsch) portrays young people who were forced to leave their countries to start a new life in Germany, and those who were born in Germany and grew up influenced by their family's cultural background. The work is based on the impressions, fears, experiences, fates and losses of the young immigrants, by focusing on the individual circumstances of their lives.
Maziar Moradi uses staged photographic portraits as the framework to capture and visualise their stories. He lets the immigrants re-enact key scenes of personal developments, dramatic experiences or turning points in their lives, thereby letting the individuals become the actors in their own narratives. Through drama, wit and humour these stories of personal experiences tell about their great effort to become 'German' and to establish a new life in a foreign country.
https://federation.edu.au/faculties-and-schools/faculty-of-education-and-arts/post-office-gallery/forthcoming-exhibitions/maziar-moradi-i-am-becoming-german
CREATIVE OFF CAMERA FLASH WITH MICHELLE DUNN
Sunday 27 August
from 10am to 4pm
Arts Academy
Media Arts Space
Join Michelle Dunn for the Creative Off Camera Flash workshop to learn the basics in shooting with off camera flash speedlites. Learn how to make flash look like natural light, to balance flash with ambient light or to use flash as your main source of light. The workshop will start with one flash, then build up to using multiple speedlite flash units for more complex lighting arrangements. This practical course will give you plenty of hands-on practice to build your skills using simple to more complex setups.
The workshop is perfect for intermediate to advanced photographers who are proficient with shooting on manual mode in natural light, and who want to get their head around off camera flash photography.
https://ballaratfoto.org/events/creative-off-camera-flash/
#DYSTURB
Secondary student lecture at Camp Street
Thursday 31 August and 1 September
Arts Academy
Helen MacPherson Smith Theatre
Renowned visual artists #Dysturb deliver a guerrilla workshop at the Arts Academy for local secondary school students.
#Dysturb is a non-profit organisation driven by the desire to make international news accessible to a larger audience by pasting oversized pictures on the walls of city streets worldwide.
#Dysturb is an educational tool using photojournalism to question our world, our societies, our lifestyles and the way our media function.
Education and transmission are top priorities for #Dysturb. Since its beginnings, #Dysturb has intervened in public and private institutions, in schools, universities, prisons, hospitals and corporate committees in France, Australia and in the United States.
These meetings have convinced us of the necessity to bring photojournalism into schools.
Our photojournalists initiate a conversation on social and environmental issues, on conflicts and humanitarian crises, thanks to the testimonies of those who witness these news.
The event will begin with a one-hour presentation at the location, followed by paste-up actions involving small groups of selected students. One paste-up will take place on campus, with subsequent installations at specified locations in the surrounding locale.
IMPRINTS: Storytelling the City exhibition opening
1 September
6pm to 8pm
Ballaarat Mechanics Institute
How do we imprint our visions and versions of ourselves and the city?
Part of the Ballarat International Foto Biennale Fringe Program, this exhibition is a journey through the photographic innovations of Ballarat inventor, Henry Sutton. It is a unique experience of the Ballaarat Mechanics Institute (BMI) Max Harris Collection of historic Ballarat images.
Curated by Amy Tsilemanis (BMI Curator and PhD candidate at the Arts Academy and Collaborative Research Centre in Australian History) with Lorayne Branch.
Housed in the beautiful BMI Library and Reading Room, this exhibition is supported by the Ballarat Arts Foundation and features guest artists Barry Gilson and Ellen Sorensen.
Dates: Aug 19 - Sep 17
Open: 10am-4pm, Monday to Friday and 9.30am-12pm Saturdays
Entry by gold coin donation
https://ballaratfoto.org/events/amy-tsilemanis/
LIGHTING WITH ROCCO ANCORA
Tuesday 5 September
2pm - 5pm
Arts Academy
Media Arts Space
What makes a good lighting setup for a photographer? How can you achieve this in your own studio?
In this intimate workshop, professional photographer, Rocco Ancora, will reveal the art of lighting, and teach you how to use speedlights and work remote setups.
This class is ideal for the photographer wanting to finesse their off camera flash technique and help set themselves apart from the competition.
https://ballaratfoto.org/events/lighting-workshop/
MAZIAR MORADI IN CONVERSATION
Saturday 9 September
2pm to 4pm
Arts Academy
Post Office Box Theatre
Join us when BIFB ambassador and human rights and refugee advocate Julian Burnside AO QC joins Maziar Moradi for a Q&A session at the Post Office Gallery.
Born in Tehran in 1975, Maziar Moradi is an award-winning photographer living in Berlin who has exhibited extensively throughout Europe and the US. His work is at once personal and political, focusing on the individual circumstances of immigrants and refugees but also painting an overall picture of the face of immigration and change.
Julian Burnside is an Australian barrister, human rights and refugee advocate, and author. He is known for his staunch opposition to the mandatory detention of asylum seekers, and has provided legal counsel in a wide variety of high-profile cases. He was made an Officer of the Order of Australia in 2009, for service as a human rights advocate, particularly for refugees and asylum seekers, to the arts as a patron and fundraiser, and to the law
https://ballaratfoto.org/events/maziar-moradi/
FROM PHOTOGRAPHY TO ETCHING
The photogravure with Silvi Glattauer
9 September to 10 September
Arts Academy
Print Room,
Old Post Office Building
Learn the use of photopolymer plates in combination with digital photography to create Photogravures. This non-toxic approach does not use solvents or acids. The image is transferred directly onto the plate with the use of an inkjet printer. Plates are then exposed using UV light, processed with water and printed via an etching press.
Gain an insight into the hybridisation of digital techniques with hand made printing processes. The workshop covers printmaking techniques, including ink and paper options, and various colour options.
It assumes that you have a basic working knowledge of Photoshop and your digital camera.
https://ballaratfoto.org/events/photogravure-workshop/