News
FedUni to shine during Ballarat Heritage Weekend 2017
Posted: Tuesday 2 May 2017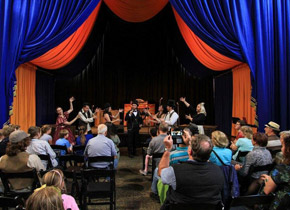 The Arts Academy at Federation University Australia is set to play a major role as part of this year's Ballarat Heritage Weekend in partnership with the City of Ballarat.
The Arts Academy is responsible for a variety of free public performances, events and talks, involving 180 students from the Performing Arts, Visual Arts and Communication Design program.
Federation University Australia students will creatively activate iconic Ballarat buildings, including the Ballarat Mechanics Institute, Her Majesty's Theatre, and the old Post Office Building. Highlights include:
An original operetta at the iconic Her Majesty's Theatre, a free public performance of The Spirit Level, daily at 10am & 3am. Experience the glorious setting of Her Majesty's Theatre with students from FedUni's renowned Music Theatre program. The Australian premiere of a new opera with music by FedUni lecturer Dr Rick Chew and libretto by Rufus Norris, Director of the National Theatre in London. Created especially for Ballarat Heritage Weekend 2017, this production is directed by renowned writer and director Anthony Crowley.
Pop up performances at the Ballarat Mechanics Institute Library, interpreting the Rare Books & Mysterious Stories, daily at 10am & 12pm. Immerse yourself in pop up performances with FedUni Arts Academy actors, in a rare theatrical experience of 'Rare Books and Mysterious Stories' in the BMI. Extra ordinary stories of Ballarat's past; her spirits and spooks, charlatans and hopeful monsters.
An original and devised children's theatre performance The Mystery of Captain Moonlite: Family Theatre Performance, daily at 11am in the Minerva Room at the Ballarat Mechanics Institute: Musical, physical and family friendly, centred around the true story of Captain Moonlite, a young bushranger who was the mastermind behind one of the only known escapes from Ballarat Gaol. Using original music inspired by Australian musicians from the region, the epic tale is pieced together from a number of stories about the life of Captain Moonlite, told through the eyes of the people who knew him. Weaving together fiction and fact, FedUni Arts Academy alumni will create a fun, exciting and musical adventure.
The exhibition Board Game Geeks created by Arts Academy Communication Design students. 10am to 4pm Daily Hugh Williamson Foyer, BMI. Uncover the mysteries and meet the weirdos, spooks and cranks of Ballarat's past. Find your way out of the labyrinth of mining tunnels, play the part of a crooked cop, solve murder mysteries, and take your turn to fight off monsters and ghosts. FedUni Arts Academy students have created a series of exciting boards games for you to play during Heritage Week.
A tribute to the tradition of music hall performances LIVE from the Music Hall Royale: A Sing-A-Long Extravaganza!, 2pm Daily, Minerva Room, BMI. An interactive, audience involved tribute to the Music Hall traditions on which modern theatre is built. Combining audience participation with elements of slapstick and vaudevillian comedy, this show contains a range of songs from the Music Hall repertoire, chosen at random by the audience, in addition to some short comedic sketches and a thrilling, family friendly murder mystery, presented by a vibrant and energetic group of FedUni Arts Academy students and alumni.
An interactive exhibition in our iconic Post Office Building ODDBOD: Mysteries in Motion, FedUni Post Office Building, enter via Lydiard Street 10am to 4pm Daily . Projected animations responding to the mysterious oddities of our colourful Ballarat history. FedUni Arts Academy students will respond with an animated gif exhibition, presented in a secret room in the Post Office Building. Direct access via Lydiard Street.
"We're thrilled that over 180 students are engaged in devising and presenting many of the key Ballarat Heritage Weekend activities. It's a pleasure to be working with the City of Ballarat to activate the heritage of our city," Bryce Ives, the University's Arts Academy Director, said.
"The size and scale of this community engagement, including our program of free public performances, is a timely reminder of the unique role that the Arts Academy plays in the Ballarat community.
"We hope many local families come along to experience our program of performances and events."
Federation University Arts Academy first year actors have been presenting public performances for Heritage Weekend across Ballarat's glorious historic streetscapes and heritage buildings since 2013.
The acting students have staged group-devised, site-specific performances, playing to both local audiences and visitors during Heritage Weekend.
Ballarat Heritage Weekend presents a unique chance for the history and arts to collide, with history lecturer David Waldron mentoring Arts Academy students.
"Our town's mysteries are part of our heritage and inquiry into the origin of our folklore and story-telling experiences is at the centre of our students learning experience," David Waldron said.
"Inquiring minds and intellectual and creative engagement with our past is a hallmark of what makes our students so engaged with our community and its heritage, whether they be budding young historians or creative writers, performers and artists."
Dr Angela Campbell, Arts Academy Lecturer, said: "While heritage is often thought of in terms of the past, as fascinating old objects or impressive built environments, we at the Arts Academy bring heritage alive in the present through contemporary performance and art work. We ask our students: 'How are you making heritage, right now?.'
"I'm investigating creative activation at the BMI as part of her action and practice led PhD research at FedUni whilst Curator at the Ballarat Mechanics Institute.
Having the Arts Academy work within the BMI for Heritage Weekend allows the spaces to sing, the stories to leap off the page, and bring new creative energy and talents into this beautiful old institute. I can't wait to see what the students come up with!," PhD student Amy Tsilemanis said.
The full program of Ballarat Heritage Weekend is available online: http://www.ballaratheritageweekend.com/
Ballarat Heritage Weekend is presented by the City of Ballarat and takes place on 27 and 28 May in the Ballarat CBD.