News
FedUni students hike to higher education
Posted: Monday 20 March 2017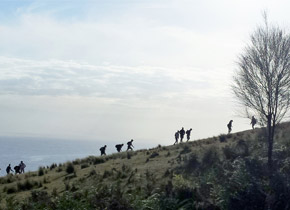 Students and staff from Federation University Australia's Ballarat and Gippsland campuses have completed an inspirational hike across Maria Island, Tasmania, with local secondary school students.
The four-day camp is part of Anglicare Victoria's 'Hike to Higher Education' program which aims to encourage secondary school students to discover their passions in life and build their academic journey.
Year 10 and 11 students from Ararat and Wonthaggi College also participated in the camp along with teachers and other community members.
The Hike to Higher Education program aims to improve school attendance rates, reinforcing the benefits to remaining in school and obtaining a VCE qualification.
Dr Tim Harrison, Senior Lecturer in the Faculty of Education and Arts and Course Coordinator for the Bachelor of Social Science, is proud to support the program which engages students that may be considered at risk of not completing their High School Education or attending Higher Education Institutions.
"It's wonderful that we have programs such as this where regional and rural high school students can connect with current university students," Dr Harrison said.
"One of the key messages that we deliver whist on the hike is that further study, whether that be at University or through TAFE, is accessible to everyone, and that students' educational history does not dictate their educational future."
David Law, Youth Engagement Manager at Anglicare Victoria, has coordinated the trip for the past five years and was pleased once again to lead representatives from FedUni.
"Without the continued support of Federation University Australia and the university students that volunteer their time to mentor these school students the Hike would not have the same effect or impact," Mr Law said.
"This is the first time we have offered the Hike to Higher Education program to schools outside the Wimmera/Grampians region and we are pleased to introduce the program into the Gippsland (Wonthaggi) area.
"Our aim is to expand this program further allowing students the opportunity to begin planning for their academic future."
The Mentors supplied by FedUni take all opportunities to have a positive influence on the students. The Mentors converse with the students to highlight tertiary education is available to everyone, no matter what their background is.
Throughout the weekend several team-building exercises and initiatives were undertaken to allow the students from both Ararat and Wonthaggi the opportunity to work together as a unified team.
"It is through the continued work of the Hike to Higher Education program that we hope to see these students graduating from High School and accepting their offers from whichever educational institution offers their chosen path," Dr Harrison said.