News
World Heritage Listing for the Victorian Goldfields takes shape
Posted: Monday 18 July 2016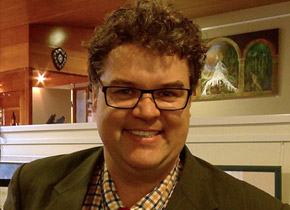 Over 400 participants of the national Australian Historical Association (AHA) gathered at Federation University Australia in Ballarat recently for its 2016 annual conference.
The history of the Victorian Goldfields took centre stage at the conference with a number of presentations relating to the significance of the Gold Rush in international history.
The Conference was in the aftermath of a very successful Symposium held within the Collaborative Centre in Australian History (CRCAH) at FedUni. The Symposium provided enthusiastic endorsement for a regional nomination for World Heritage Listing for the Victorian Goldfields, followed by very encouraging and supportive comments by the Victorian Minister for Planning, Richard Wynne MP.
Professor Keir Reeves (pictured), the Director of CRCAH said: "What was so useful about the AHA Conference was the opportunity for so many historians and researchers and importantly our own regional colleagues from neighbouring universities to come together and to inform each other and the Conference collectively of the direction we should seek to take with World Heritage Listing for the Victorian Goldfields and the best strategies which will help ensure a successful nomination".
A clearly emerging consensus from presentations and discussions on World Heritage Listing for the Victorian Goldfields recognised that the criteria for World Heritage Listing by UNESCO was evolving especially in relation to cultural landscapes.
It was also important the Victorian Goldfields nomination address these developments if it is to be successful.
There was clear support for the view of presenters that the Victorian Goldfields nomination addresses what is of 'outstanding universal value' which is the key criteria for World Heritage Listing, then assesses what current regional examples best reflect and showcase this and how they compare to other important Gold Rush and mining sites in Australia and in the world.
"Although we can certainly draw on past work and research, it is really important to take a creative approach as we go forward recognising World Heritage Listing developments in recent years," Professor Reeves said.
Chris Meddows-Taylor, Chair of the Victorian Goldfields Tourism Executive who presented at the Conference, commented how exciting it was to have the opportunity to bring all this research, knowledge and experience together.
"What this did is really shape a direction forward which we can develop which gives us the best chance of success and will have immense regional benefits for tourism, economic development and job creation," Mr Meddows-Taylor said.
A request is now with Regional Development Victoria (RDV) for a two-year intensive research and development process within CRCAH which will involve extensive cross-regional community and stakeholder consultation.
Mr Meddows-Taylor said that following some very positive discussions with Minister Jaala Pulford and encouraged by the recent public comments from Minister Wynne, there was an expectation this could commence shortly.
"We are so fortunate in having CRCAH in Federation University Australia absolutely ready to go and provide the ideal capability to lead the research process and position it for the success at UNESCO we want," Mr Meddows-Taylor said.
"Of course we will continue to work closely with Heritage Victoria towards this objective."