News
FedUni excels again in Good Universities Guide
Posted: Tuesday 25 September 2018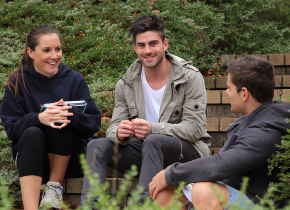 Federation University Australia has maintained its strong record as a national leader in university rankings following the release of the 2019 Good Universities Guide.
Among the highlights, the University has the highest percentage of First Generation students throughout the nation - 44 per cent. These students are the first in their family to attend University.
The university is also ranked first in Victoria for graduates' commencing salary, which is recorded at above the national average.
"The University is delighted once again to have achieved such excellent results in the Good Universities Guide," Professor Helen Bartlett, Vice-Chancellor and President, said.
"Our high teaching quality and strong graduate satisfaction are very attractive to First Generation students. The University's mentor programs and student welfare services are specifically designed with our First Generation students in mind.
"We also are delighted to have been ranked first in Victoria for student support and social equity, with a high number of students from a low socio-economic background accessing a FedUni education."
In addition, the University's five star fields of study were for business and management; computing and information systems; creative arts; engineering; health services and support; humanities; social sciences; psychology; science and mathematics; and teacher education.
Reflecting the employability of its graduates, FedUni was ranked number two in Victoria for full time employment.
"Almost 70 per cent of regional students who study at FedUni stay in their region after they graduate," Professor Bartlett said.
"These communities benefit greatly from the students' commitment to their region."