News
Multicultural Ambassador Program leading to greater awareness of cultural diversity
Posted: Monday 24 September 2018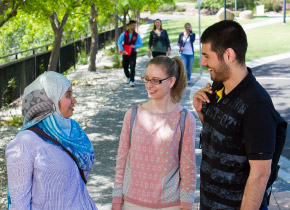 Federation University Australia's evaluation of the City of Ballarat's Multicultural Ambassador Program (MAP) suggests overwhelming support for increasing and enhancing awareness of cultural diversity in Ballarat.
Ballarat, as the third largest regional centre in Victoria, is committed to bolstering awareness and inclusion of intercultural communities.
The City of Ballarat introduced a Migrant Attraction and Retention Population Strategy in 2006 and has since updated it to the City of Ballarat's Intercultural Strategic Plan 2018-2021.
Under these strategies, the Multicultural Ambassador Program (now known as the Intercultural Ambassador Program) selects up to 10 Ambassadors, for a period of two years.
The Ambassadors support leadership within the intercultural community, showcase and share the commitment and contributions made by migrants and Indigenous people to the Ballarat community, and foster inclusion of existing and new intercultural communities in Ballarat. Federation University Australia researchers evaluated the Multicultural Ambassador Program in the 2016-2018 round.
The evaluation findings highlight the many positive benefits of the program and both Ambassadors and Councillors felt there was a need for more awareness and recognition of migrants' contributions. A number of improvements are also suggested such as formalising mentoring with former ambassadors, extending school engagement, and including Ambassador initiatives like interfaith events in the city's annual calendar.
"I congratulate the City of Ballarat and my Federation University Australia colleagues for their outstanding work in evaluating the benefits of the Multicultural Ambassador Program," Professor Helen Bartlett, Vice-Chancellor of Federation University Australia, said.
"The University has a long and proud history of welcoming international students to Ballarat and our other campuses.
"I am sure the Multicultural Ambassador Program and the new Intercultural Ambassador Program will be of great benefit to the many new international citizens who are choosing to call Ballarat home."
City of Ballarat Mayor Cr Samantha McIntosh said the evaluation's findings reinforce the achievements of the Multicultural Ambassador Program, now known as the Intercultural Ambassador Program, to enhance and promote social cohesion and inclusion of our intercultural communities.
"As Australia's first Intercultural City, Ballarat is proud to lead the way in this area – bring people together, migrants and the existing community to engage and create a stronger, more harmonious city."
The researchers involved in the project include Dr Tejaswini Patil, Dr Jane Mummery, Dr Cassie Pedersen and Ms Gemma Ramsay. They are collaborating with Ms Frances Salenga and Ms Jenny Fink from City of Ballarat.