Protecting our endangered plants
25 February 2021
---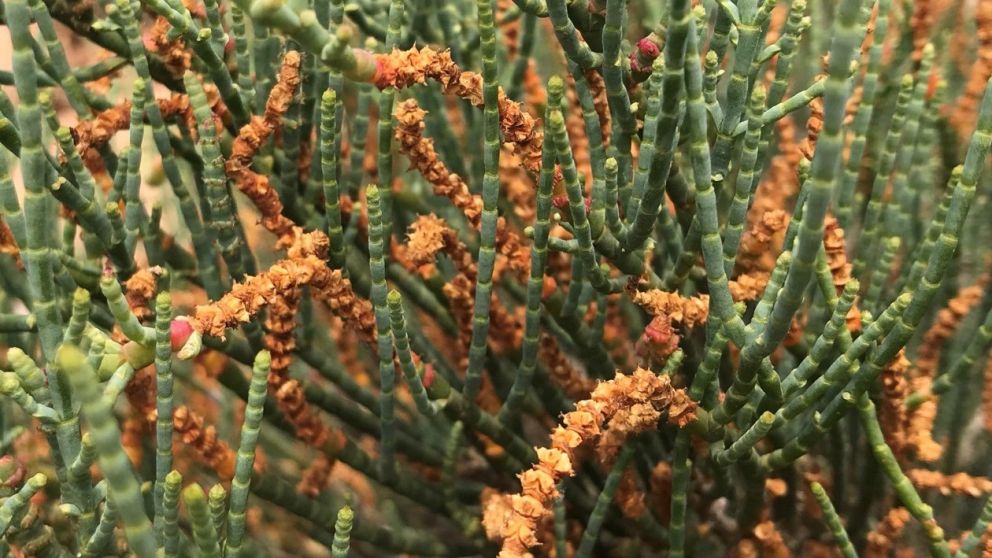 Federation University Australia researchers are working to protect an endangered plant community that is only found in a small number of salt lakes and has come under threat from grazing and climate change.
Tecticornia lylei low open shrubland is found on the fringes of larger salt lakes and across smaller salt lakes in far south-west New South Wales within the Murray-Darling Basin, and in similar locations in Victoria. The healthiest populations are found on Nanya Station – a 40,000-hectare biodiversity treasure owned by Federation University that includes a system of natural salt lakes, old-growth mallee trees and a variety of ecosystems.
Professor of Environmental Management in the School of Science, Psychology and Sport, Singarayer Florentine, said the community was first recorded on Nanya by Emeritus Professor Martin Westbrooke during a survey of the area in the mid-1990s.
"On Nanya, we have a very healthy population because we have taken action to reduce grazing pressure on the plants and we are working with the NSW Environmental Trust to conserve this community and its component species," Professor Florentine said.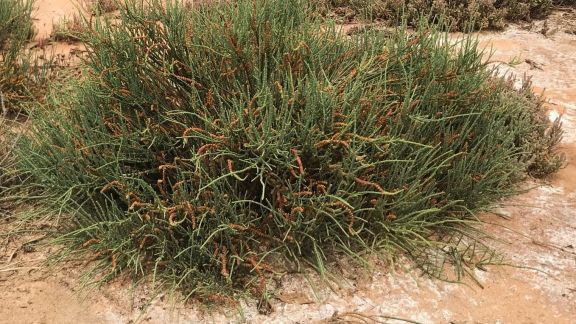 "To protect the species, we need to understand everything about this plant, including its seed quality, why they are confined to a particular zone, the impact of grazing pressure, and what climatic conditions are suitable for it to thrive. The community is thriving on Nanya despite the high levels of salinity, which can be very toxic to younger plants or seedlings."
The dominant plants in the community grow to a height of about one metre and 60 centimetres wide, and feature white-pink flowers and jointed fleshy leafless stems that enable them to survive in the harsh climate in which they are found.
Professor Florentine said he believed the seeds probably germinated immediately after high rainfall or flooding, as this flushed out high concentrations of salt, giving Tecticornia lylei seedlings a window in which to establish. The researchers have been able to germinate seeds in pots, finding success with daytime temperatures of 17°C and an ideal night-time temperature of 7°C. This indicated the seeds were more likely to germinate in the cooler months, as south-west NSW was often hit with blistering heat in summer.
"Once established, they seem to cope well with the prevailing climate," Professor Florentine said.
"The seeds are fascinating because they are embedded in a sack that makes it quite difficult to extract them. But when placed in water, this dissolves and frees the seeds. When these fall from the plant, they tend to stay around the parent plant until a flooding event after which they open and start to germinate."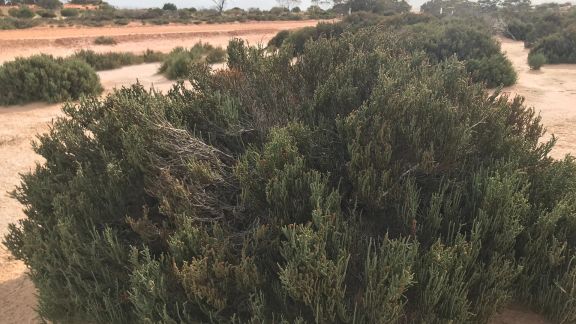 Emeritus Professor Martin Westbrooke said the researchers were keen to discover why the plants were confined to particular patches as populations were not continuous. Investigations are also aiming to determine the NSW populations and those located on salt lakes in north-west Victoria.
The researchers have also established 25-metre by 25-metre fenced exclusion plots around examples of the community on Nanya and on neighbouring pastoral properties to investigate the impacts of grazing.
The researchers have just completed the second year of a five-year study of the community with NSW Environmental Trust and have expanded their research to include PhD candidate Kristin Monie, who in particular, is investigating soil characteristics favouring the community.
"There is one particular band in salt lakes where they tend to grow so Kristin is looking at that as well as soil characteristics including pH levels, nutrients, soil particle size and the optimum salinity level for their germination," Emeritus Professor Westbrooke said.
"This is expanding on our project to locate where the community exists and what are the threats to its survival. It is important that we conserve this community and provide extra support to ensure that we maintain healthy populations now and into the future."