New energy expertise goes global with international partnership
20 November 2023
---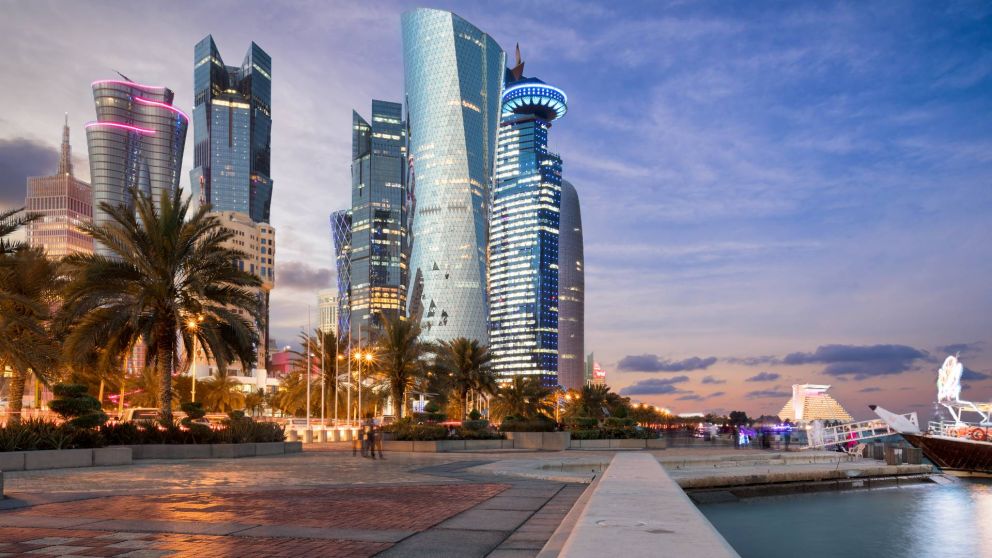 Researchers from Federation's Centre for New Energy Transition Research (CfNETR) have partnered with the University of Qatar to help the resource-rich state diversify its electricity generation to ensure a more secure energy grid.
CfNETR Director and Federation's project leader Professor Nima Amjady, and researchers Dr Rakib Shah and Professor Syed Islam, have won a $245,000 grant from Qatar's Research Development and Innovation Council out of a total pool of $1.1 million for research projects. Federation is the only international institution awarded a grant for research on new energy transition.
One of the wealthiest countries in the world when ranked by GDP per capita income, Qatar relies heavily on petroleum and natural gas, which account for more than 70 per cent of total government revenue. With easy access to traditional energy supplies, Qatar has looked internationally for expertise to help bring renewables into its energy supply mix.
Professor Amjady says the partnership demonstrates how CfNETR is working on the global stage and that turning to the Federation was a vote of confidence for Australian research in renewable energy systems.
He hopes the project will lead to future collaborations with Qatar and other international partners.
"This grant is recognition that Australia is at the forefront of renewables research as countries aim for Net-Zero," Professor Amjady said.
"CfNETR researchers have completed many projects in this space including microgrids, energy efficiency, and demand response. We are working on the Enhanced System Planning Project in Victoria, which is developing a whole distribution system ready for the state's transition to electrification.
"The partnership will allow CfNETR to take on two PhDs in the space of new energy transition, forecasting and AI application in new energy for three years, while a research fellow from the University of Qatar will join the research team for 18 months."
This project will also include a researcher from Federation's Health Innovation and Transformation Centre (HITC) in one of the work components.
Qatar signalled its intent to include a mix of renewables in its energy supply mix when it ran a fleet of electric buses while hosting the 2022 FIFA World Cup.
"Qatar is also aiming to diversify its economy, and one of the main criteria for diversifying an economy is to achieve better energy security by diversifying your energy system," said Dr Shah, who is CfNETR's stream lead of Future Grid and Community Energy.
"That is happening quickly in Australia, and Qatar wants its power system to move away from being completely reliant on oil-based fossil fuel power generation – it wants to have a mix of renewables in its overall supply."
Dr Shah says the Qatar Research Development and Innovation Council initiated the conversation between the University of Qatar, its researchers and the CfNETR leadership team.
"We will be able to give them our experience from the projects that we have been working on and based on that, determine how we can contribute and make the transition happen in Qatar's power system," he said.
"But Qatar's situation will be completely different from ours here in Victoria. For instance, we are fortunate that 99 per cent of our households have a smart meter. Qatar is a very wealthy country, but many of their households are not yet equipped with smart meters."
"They don't have the levels of rooftop solar as we have in Australia because they haven't needed to previously, but now they want to diversify, including integrating more electric vehicles into their system. Now they are moving towards Net-Zero - not at the same rate as Australia or some other OECD countries, but they want a certain percentage in their mix."
Dr Shah says the relationship also shows the growth and potential of CfNETR.
"CfNETR was developed at our regional university to work on the complex issues faced in our regions, but our research capability is also nationally known. With two Institute of Electrical and Electronics Engineers (IEEE) fellows in power and energy, it is going beyond that to be truly global," Professor Amjady said.
"For Qatar to get the expertise they need, they could have looked at the USA, the UK or anywhere across Europe or other parts of the world, but they have recognised there are many gaps that we can help with our knowledge," he said.
"We have experience across several projects, and we can transfer that knowledge to this partnership."
Related reading:
New smart inverter to help tackle Australia's energy challenges
Research to help communities prepare for energy transition