Major national exhibition redresses gender imbalance
9 December 2020
---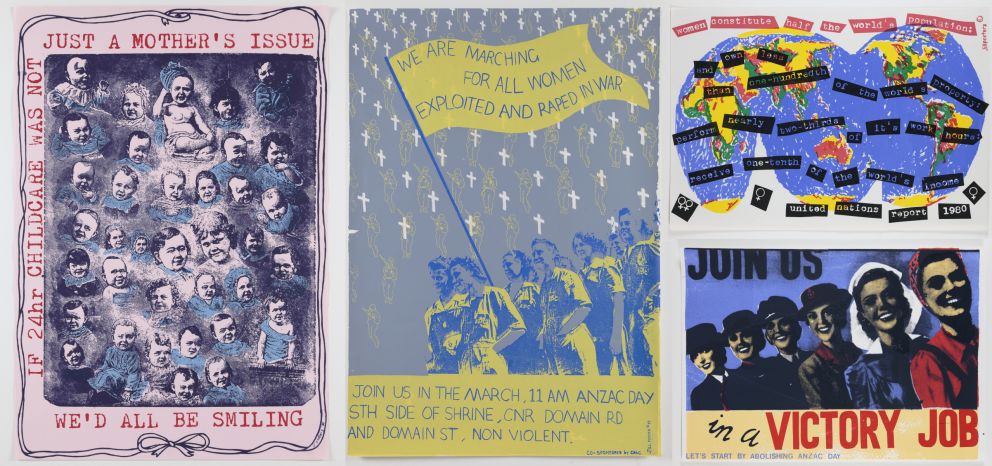 A poster and a photograph produced by two Federation University Australia artists have been included in a National Gallery of Australia exhibition that is celebrating the work of women artists.
The poster, by School of Arts Deputy Dean Associate Professor Carole Wilson, was produced in 1983 when she was a founding member of the Melbourne-based feminist poster group Jillposters. Purchased by the gallery years ago, Dr Wilson was unaware her poster was included in the Know My Name: Australian Women Artists 1900 to Now exhibition until the easing of COVID-19 restrictions allowed her to visit family in Canberra.
"I planned to see the exhibition and my mum said, 'you never know, you might find one of your posters' but I didn't think so, I'm sure I would have known it was being shown," Dr Wilson said.
"Sure enough, there's a whole wall of feminist political posters and it's in there. That I just came across it is great – we did quite radical posters and this one is a street poster so it's kind of rough and ready."
The poster is a screen print that was produced when Dr Wilson was studying art. The National Collection owns about 20 of her posters that were produced when Dr Wilson was in her early 20s because the curator of Australian Art - Prints and Drawings – had a strong interest in Australian posters.
"My poster is advertising a street rally – an anti-Anzac Day rally which was all very topical in the 80s. It was the era of nuclear disarmament and questioning the glorification of war, and the poster is about women marching for women who had been raped and exploited in war."
The photograph, Bleeding Trees: performance for the camera by Dr Jill Orr, features in the Know My Name book, which profiles more than 150 artists and aims to shift assumptions that the histories of art are male-dominated. Dr Orr's photograph is also in the National Collection.
"Both are quite radical works and Jill's is quite famous, she's a performance artist and it's a very well known, internationally recognised image," Dr Wilson said.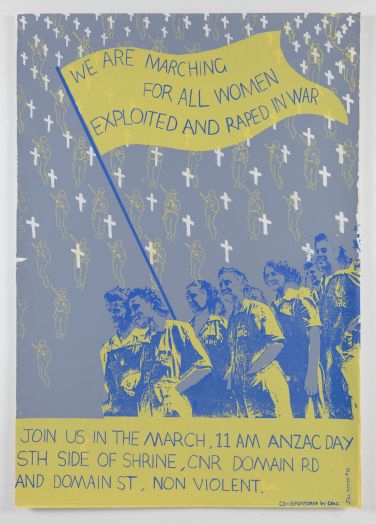 "The reason the exhibition is being staged is because like galleries everywhere, the National Gallery is starting to really have a closer look at their collection and they are ashamed to admit that something like only 25 per cent of their collection is work by women.
"So this year-long exhibition and associated events is redressing the balance, but the gallery is also developing a set of collection policies about buying more work from women artists and recognising that this is a bias in the National Collection."
Dr Wilson said the poster was produced in the heyday of collectivism, so it features the name Jillposters and not her name. It featured on various walls around Melbourne to promote the rally.
"At that time – art school in the 1980s – screen printing was very much in vogue and there's a long history of political poster-making in Australia in the 70s and 80s in particular. Screen-printed political posters were very much of that era," Dr Wilson said.
"I was at art school doing printmaking and I did a certain amount of screen printing which is a laborious process by hand where you print with a squeegee through a screen with each colour individually. It isn't taught much anymore – we worked with pretty toxic inks, they're all oil-based and to clean up the screen, you just flooded it with turps.
"This was very much of its time. Now posters can be whipped up on Photoshop and distributed, but that was not the case then. You made posters by hand and you went out at night with a bucket of wallpaper paste and broom and you posted it up on the street."
The year-long exhibition will see a complete renewal of the works after six months. In addition to the exhibition and the book, there have been several associated events around Know My Name, and there are billboards all over Australia to promote it.
"Funnily enough, I was driving back to Ballarat from Canberra and stopped at Humffray Street North to wait for a train to cross, and I looked up at a billboard featuring a beautiful painting by Emily Kame Kngwarreye and I thought, 'oh wow that's a Know My Name billboard," Dr Wilson said.
"This was a lovely coincidence and it's fantastic that two lecturers from Fed Uni Arts Academy are involved in this major event."