How research could make for smoother sailing in world-famous race
24 February 2023
---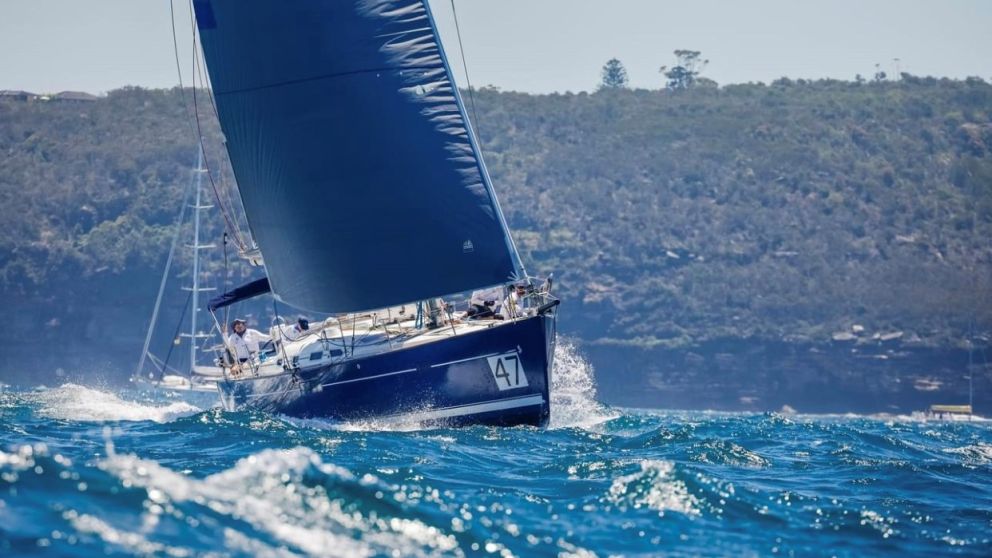 When a fleet of 109 set off from Sydney Harbour for Hobart in Australia's famous yacht race at the end of 2022, it's unlikely many entrants would have been much better prepared than Wayne Seaward's Cyan Moon crew.
Cyan Moon won its division – the Performance Handicap System – despite being Mr Seaward's first go at the Sydney to Hobart Yacht Race – remarkably as an owner and skipper.
From the outset, Mr Seaward was keen to do things a little differently. This included partnering with researchers at Federation University to document each crew member's preparation for the race and their experiences during and after the race.
Director of Federation's Collaborative Evaluation Research Group (CERG) Professor Jo Porter says the crew was unique because it comprised members with varying degrees of sailing experience, with a 50-50 split of males and females.
"Part of our job was to capture the crew's story, which is the human side of it, and we wanted to create a document, a report, that any crew that's thinking about going into the Sydney to Hobart could pick up and say, 'here's an experience of one crew and how they went about doing it'," Professor Porter said.
"Here we have a crew and the captain – the owner of the boat who has never done the Sydney to Hobart, but it was always his dream to do it. He's worked extremely hard to go through all the hoops and get everything up to specification and be ready for this great challenge and what can be an extremely dangerous race."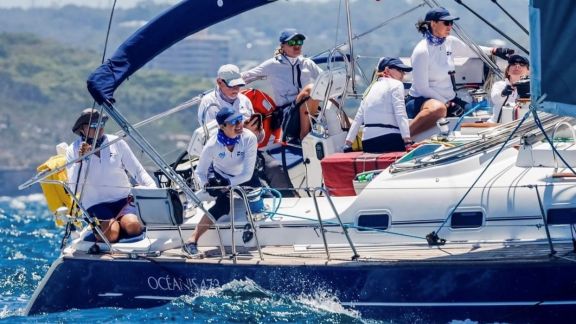 Professor Porter says the crew's participation in some lead-up events became the ideal time for Mr Seaward to set a course for the challenge. The race is a gruelling 628 nautical mile event that can have a high rate of attrition because of the conditions that can become treacherous in the Bass Strait.
"This crew was unique in that it had a 50 per cent male and female split – there's not a lot of women in sailing – most yachts in this level of competition are crewed by males. But Wayne has a lovely philosophy around giving everyone an opportunity – he's very strong at capacity building among males and females, and that's why he's done this."
"He runs an incredibly tight ship as far as health and safety, he set out numerous drills and provided regular updates and pamphlets. He's an incredible motivator, with lots of team-building exercises and plenty of work on technical skills. He's really vigilant on the compliance and safety elements, and he was very proud that he passed all inspections with flying colours."
In interviews before setting sail, some crew members said they were drawn to competing simply because of the allure of the world-famous race. Others were attracted to the challenge of finishing an event where crews are often forced to pull out. Many crews have been rescued over the event's history, and the race has seen tragedy.
"Even though the conditions can be dangerous, that adds to the real sense of finishing."
The project also tracked the crew members' resilience, with the race requiring the team to operate at high levels of skill and alertness with little rest. The crew worked in three-hour shifts, alternating between being on deck and trying to sleep while lying at a 45-degree angle.
"There's a real need for resilience and an ability to cope with high-stress levels and decision-making," Professor Porter said.
"There's a real risk of burnout before they even make it to the start line. Those three-hour shifts over the race days are difficult. We had a survey out to each of the crew members and did that periodically up to the race and then post-race, exploring the crew's levels of stress, burnout and resilience to help us understand what it takes to perform at this elite level."
"We also did a series of one-on-one interviews with each crew member about their individual preparation, feelings of apprehension and excitement, and about the team dynamics and why teamwork is important to successfully complete the race."
"Some described it as 95 per cent boredom and 5 per cent of sheer adrenalin because there's a lot of downtime in there as well, a lot of monotonous sailing, just getting on and getting things done."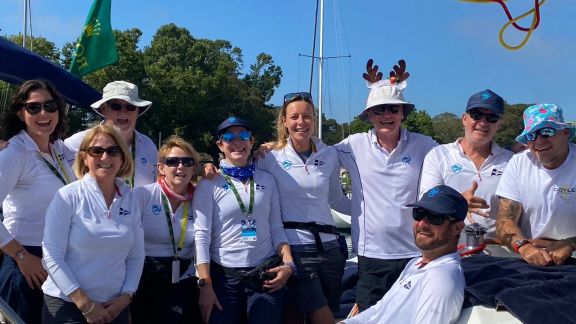 CERG researcher Meg Jackson says the crew were expecting challenges, and they got more than they bargained for. This included a broken gooseneck – the connection that joins the boom to the mast – severe enough to end the race for other yachts who suffered the same fate.
"The crew wondered whether they would have to quit, but Wayne's response was, 'no, we're finishing this race whether we have to crawl over the finish line'. On the last day, when Wayne told his crew that they would win their division, the crew did not believe him at first. They were tired and had no contact with race tracking being so far offshore for most of the journey," she said.
"I spoke with him a lot about where he has to go to get that sort of motivation to cross the line. He said that every time something broke, it presented an opportunity for a less experienced crew member to learn or do something they had not done before. There may have been disagreements between crew during high-pressure situations, but Wayne would be there to offer guidance and support to help resolve concerns and keep the crew sailing."
The crew remained strong in their teamwork and support of each other, even in the last tiring moments when there was another boat going past them – a boat they knew couldn't beat them in their division – his crew jumped up and started cheering them on.
"So despite all of the battles they faced, the culture that Wayne had built was still staying really true," she said.
"I've also spoken to other crew members who said that one of the most rewarding things was seeing Wayne when they crossed the finish line, seeing him cry and be overwhelmed with joy. One crew member said, 'I've done this race a lot, I've done lots of sailing, but to see Wayne's reaction was the most rewarding part for me'."