How mind training helps players conquer footy's sound of silence
2 July 2020
---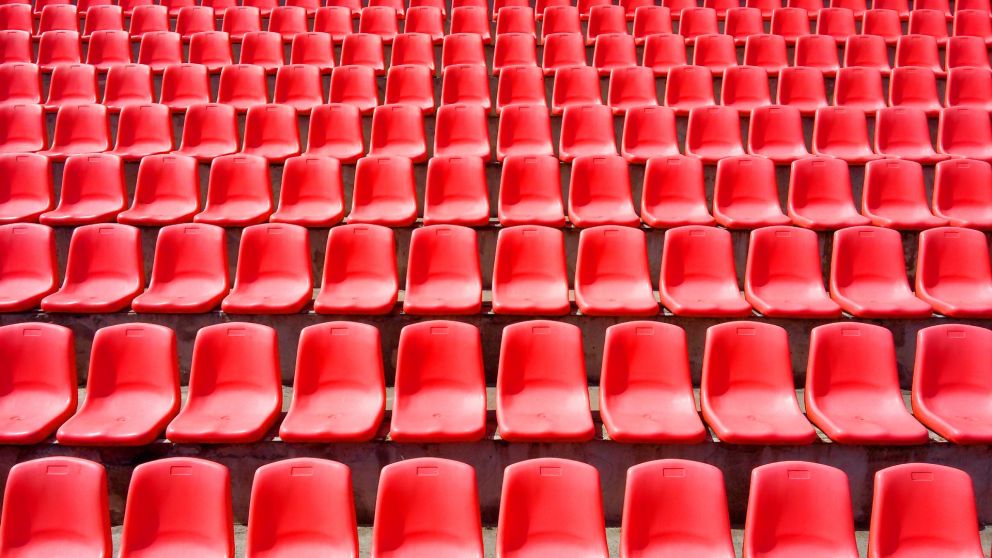 Whe­­n St Kilda took the points against reigning premiers Richmond in their round four clash at Marvel Stadium, it was the latest upset in an AFL season that has started like no other due to the COVID-19 pandemic.
Changing schedules, interstate team hubs with quarantine measures, shorter quarters and no crowds allowed the season to resume round two on June 11, more than two months after play was suspended at end of round one.
And while it may be impossible to pinpoint why there have been so many early-season upsets, one of the Saints' best in the win over Richmond, ruckman Rowan Marshall, said what is certain is the impact that supporters have on their teams.
"When you run out, you're used to that big roar from the crowd. Now you just run out and there's dead silence – you've got to rely on your teammates to create the noise and the energy and the vibe among the group," said Marshall, a Bachelor of Sport Management/Bachelor of Business student at Federation University Australia.
"Everyone's different and there are different personalities, I think a majority of our list rely on the crowd and that energy and atmosphere that a big crowd produces. You might put on a big tackle or kick a goal and it's silent, which is just weird."
Marshall made his debut towards the end of 2017 when St Kilda took on Sydney in front of more than 35,000 people at the SCG. Before being picked up by the Saints, he played for North Ballarat in the VFL. Those matches had crowds of perhaps a few thousand people.
"I remember my first game in Sydney was on a Saturday night and I just remember the first quarter – I was running around like a headless chook," Marshall said.
"I just had so much adrenaline and I thought it was the best thing ever. I wasn't fatiguing but my mind was all over the place and I just felt like I had more energy and could get to more contests. I think the crowd provides the sort of atmosphere to get you up and about."
An empty stadium with no atmosphere may have also contributed to Marshall's wayward shot at goal in round one when the Saints lost to North Melbourne by just two points.
With a chance to give the Saints some breathing space from a fast-finishing North Melbourne, he missed from 45 metres. He says he felt more nervous taking the kick because of the silence at the crowd-less Marvel Stadium.
"I had a shot for goal that could have won us the game. It's a goal I'd kick nine times out of 10 and even at the top of my run-up, it just felt different," Marshall said.
"Normally you've got the crowd there and you want to kick that goal and hear the big roar but at the top of my run-up, I felt less confident than I normally would which is weird because you would think without the crowd there – no noise, no external factors – that it would be easier. It was completely the opposite, I found." Rowan Marshall
Marshall said an increased focus on mind training was helping the Saints overcome the challenges of playing in a competition with so many changes.
"The time between a goal being kicked and the centre bounce now feels like an eternity. You come back to the middle, well I do in my position in the ruck, and it's a chat with the midfield group for about 30 to 45 seconds about how we're going as a group, what the plan is for the next centre bounce," Marshall said.
"We've been doing a lot of mind training – so we take a few deep breaths to get our heads back into the game and go on from there."
Exercise and Sport Psychology Senior Lecturer Dr Christopher Mesagno, who has researched choking and clutch moments in sport, said personality literature indicated that elite athletes who had high confidence in their ability, thrived when the stakes were high and when big crowds got involved in the contest.
"These athletes are often very confident in their ability and they enjoy playing in front of crowds, they enjoy the limelight. The dream scenario would be playing in the grand final in front of 100,000 people with the opportunity to have the last kick to win the game," Dr Mesagno said.
"If we take away these crowds, there is a chance that they won't do as well with their performance. It's a similar situation where there is a contest but there may not be much on the line – the players may not feel the pressure when they actually need the pressure to perform at their peak."
This crowd-backed performance could be behind some of the shock results so far this season where teams have overcome their opponent's 'home-ground advantage' to claim an upset win.
"The home ground advantage – particularly with Geelong and the non-Victorian clubs – might be in part due to the familiarity of their oval, but in normal circumstances, if you take a big majority of the supporters that are barracking for their team, that support helps the players," Dr Mesagno said.
"If you think about it from the opposition's perspective, you're constantly getting booed or you get all this negativity that can put you off unless you're really thick-skinned and mentally tough.
"The adrenaline that a crowd gives their team may also allow them to have more energy towards the end of the game when the fatigue really starts setting in."