Christian Ashby's mission to be the best athlete he can be
22 December 2021
---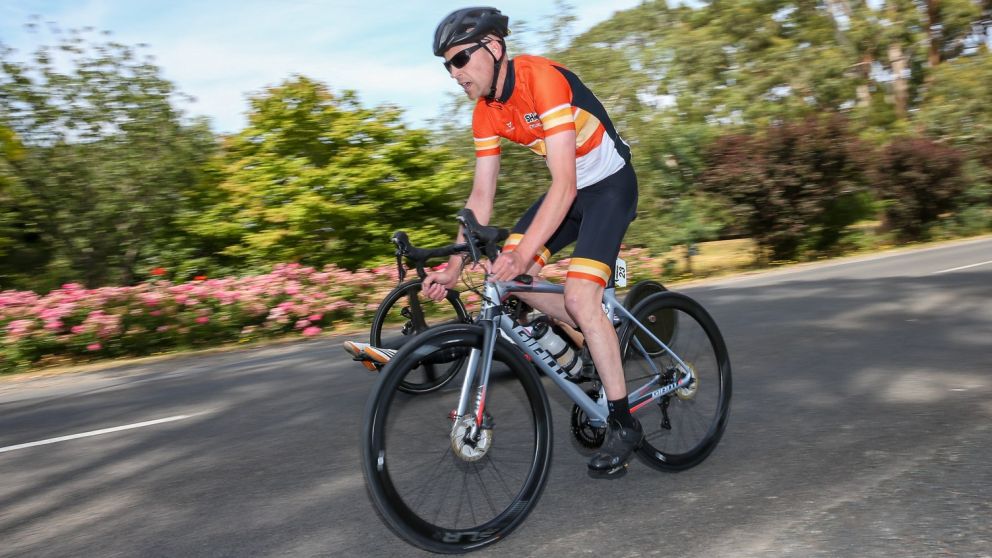 By Oscar Owens
When Christian Ashby readies himself to roll down the ramp at the Federation University Road National Championships time trial, many thoughts will be racing through his mind.
A former state and national level triathlete, Ashby's competitive sporting life changed on Good Friday 2016 when he was the victim in a tragic hit and run accident that resulted in him undergoing 15 lifesaving operations and a 6-month stint in hospital where he learnt to talk, walk and eat again. The list of injuries included a cracked skull, 15 broken ribs, broken pelvis, broken femur, compound fracture of the tibia and fibula, broken scapula and collarbone, six unstable vertebra fractures, a fractured left hand, fractured sternum, broken patella and shattered acetabulum (hip joint).
The journey back to functionality was long and arduous but Ashby's love of cycling never waned. In time he would begin riding again for rehabilitation purposes rather than racing getting stronger and fitter with every pedal stroke. Eventually, following a discussion with his Ballarat physiotherapist Peter Steggall, Ashby was drawn back to bike racing competing in the C2 para-cyclist category.
"Initially I wasn't sure what it entailed. Peter did a provisional assessment on me, placing me in a classification category. He explained that if you can manage to ride a bike on two wheels, there are five classification types C1 - C5, with C5 being the most abled."
"He provisionally assessed me as a C2. Later that month I was officially assessed by a national assessor as a C2. Three weeks after the assessment, I was asked to ride in the para-cycling nationals in Ballarat, having only ridden my bike outside three times since the accident."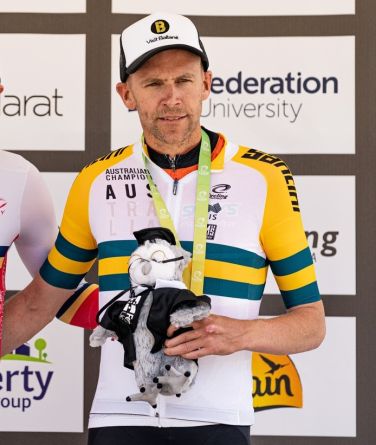 After making a successful return to bike racing, Ashby has managed to harness the same determination and resilience he showed in recovery to finish on the podium at the RoadNats in 2019, 2020 (he was National champion in road race and TT) and 2021.
In preparation for 2022, Ashby has been working with Federation University lecturer Dr Ryan Worn on improving his cycling performance, particularly his time trailing through biomechanical analysis.
"Due to my injuries I have had trouble getting into a customised aero position. Earlier this year, I approached Ryan asking for his assistance and we have since been working in the Federation University physiology labs on testing what position is best for me to produce maximum power in the best possible aerodynamical position," he said
"Through using power sensors and modifying my bike, we have tweaked my crank, handbar, cleat and aero bar positioning on the bike. By doing power tests in varying positions and with different joint angles of motions, we could come up with a more efficient position than I have previously been riding with. Ryan was so professional, helpful and his knowledge was so impressive. Nothing was ever too much trouble."
Going into his final weeks of training before the 2022 edition of the Federation University Road Nationals, Ashby hopes the hard work and aero testing he has been doing will pay off.
"My goals for the 2022 Road Nationals are to go as well as I physically can. I would like to improve on last year's result. My preparation has been good in training, but there has been little opportunity to race recently."
That changes on Wednesday January 12, when he will don his racing jersey in a quest to once again finish on the podium. The Federation and Ballarat cycling communities will be cheering on Ashby as he continues his pursuit to be the best athlete that he can be. His drive, commitment and inspiration should be bottled and shared this festive season.
Oscar Owens is a lecturer in Exercise and Sport Science at Federation University.
The 2022 AusCycling/Federation University Cycling Performance Seminar Series will be held between January 10 and 13. Sessions will cover topics relevant to cycling performance at all levels, and participants will be given the opportunity to ask questions at the end of each presentation. For more information and to register for the sessions, visit this link.
The 2022 Federation University Road National Championships will be held in Ballarat and Buninyong from January 12-16.
Related reading:
Zach's quest to integrate study into his sport