An antipodean dream in Milan
20 February 2020
---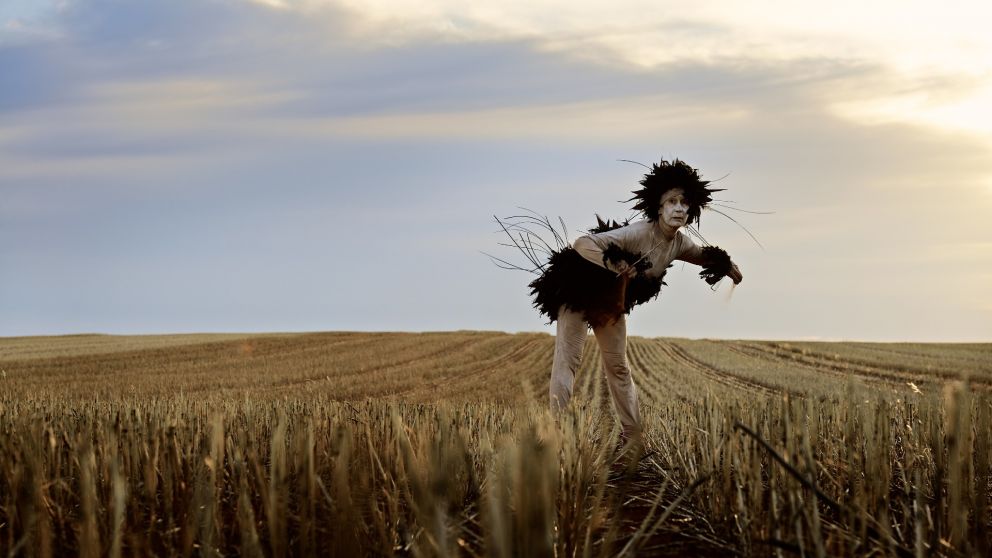 When renowned Italian art curator Eugenio Viola approached Jill Orr to contribute to the exhibition Australia: Antipodean Stories, at the Padiglione d'Arte Contemporanea (PAC) in Milan, he proposed her Bleeding Trees series from 1979 would be the perfect fit for the show that would be one of the largest exhibitions of Australian contemporary art presented overseas.
The series of 21 images, photographed across Victorian landscapes, is an early environmental work where the body is used as an 'emotional barometer' placed in empathy with the natural and unnatural life cycles of trees.
"It's a pretty huge exhibition of Australian artists including some really out there artists who are looking at Australian stories. Some of them are influenced historically but generally it's the current political landscape which is pretty rich and diverse," said Dr Orr who works in performance, photography, video, sculpture and installation is a Senior Lecturer in Visual Art at Federation University Australia's Arts Academy.
"I'm a performance artist but I'm always seeing things as if they're photographs or films before I begin. Bleeding Trees was one of my first works that was environmentally based. It's using the body as a stand-in for trees, tracing through the body of the tree from the depth of its roots to the top of its tree trunk."
Also included was a more recent series of performative photographs from 2015. Antipodean Epic was created in and around the sunset country for the Mildura Palimpsest 10# Biennale.
Antipodean Epic was developed from site-specific performative photographs and video that culminated in a live performance for the Mildura Palimpsest Biennale in October 2015. In 2016, Dr Orr presented The Antipodean Epic – The Quarry for the Lorne Sculpture Biennale and the third and final re-imagining was presented in an urban environment for the Belo Horizonte Biennale in Brazil. Each incarnation of the work resulted in three unique works that responded to the different environments and audiences. This work was enabled through the receipt of an Australia Council Fellowship.
Australia: Antipodean Stories included works from 32 artists, from emerging to established, and from different generations and cultural backgrounds. The exhibition showcased paintings, performances, sculptures, videos, drawings, photography and installations. For the artists, it was a chance to tell their own story.
As the exhibition drew to a close, the focus shifted to another much closer to home. Dr Orr's work will feature in SCOPE20 – the Arts Academy's annual exhibition by Visual Arts lecturers, teachers, Research Associates, Associate and Adjunct Professors and Research Fellows.
SCOPE, now in its twelfth year, comprises new and existing work by artists whose practice is underpinned by rigorous research at Federation University. Dr Orr will exhibit a video work from 2002 titled The Sleep of Reason Produces Monsters - Goya.
After studying art and craft teaching, Dr Orr was drawn to sculpting, attracted by a freedom that gave her the "room to move" that painting on a canvas couldn't. She has since presented at dozens of exhibitions around the world, with her work held at major collections including the National Gallery of Australia and the National Gallery of Victoria.
"I never was a teacher – funny I'm doing it now – but way back then I was basically irreverent and disrespectful of any institution. I think I was not that much older than the people I was meant to teach.
"The arts, I think, are particularly good at bringing nuance to issues so nothing's ever cleanly cut off from history nor able to forge into the future without knowing where we have been, where we are going and what is still missing. I think in one sense this country still desperately needs, a little bit more openness, empathy and recognition of the impact of our actions. That includes towards both Indigenous and environmental recognition." Dr Jill Orr
Dr Orr said much of her art was influenced by the environment. As a child growing up near the Campaspe River at Kyneton, she remembers the removal of many non-native willow trees from the river's edge, forever changing the landscape at one of her favourite spots. An awareness of the environment has always been there.
"I quite like going into apocalyptic looking landscapes. So to create an image from those sites can be very powerful. I dream them, I've just got a very active imagination so I might wake up at 4:30am with an image in my mind. If it persists, it's worthwhile doing," Dr Orr said.
"There are floating images that usually come back stronger and stronger and, finally, I'm visualising probably the next piece I will do which has been hovering around in the imagination for quite a while, but I'm not quite ready to do it yet – that will often be the next one.
"Quite often my work is about environmental things but that's an enormous area. As soon as you look at that word, you can go anywhere with it because all matter is impacted."
Scope20 will run at Federation University's Post Office Gallery from Friday 21 February to Saturday 7 March. Dr Orr's work will be exhibited in Know My Name at the National Gallery of Australia from May 30 to September 13, and at This Is No Fantasy, Gertrude St, Fitzroy, in August.