News
Arts Academy Lecturer to exhibit at Queenscliff
Posted: Friday 21 April 2017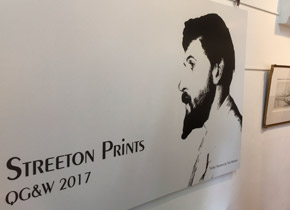 Jimmy Pasakos of Federation University Australia's Arts Academy has been invited to partake in the 'Streeton Prints - Artist in Residence' program.
The residency will take place at the Queenscliff Gallery and Workshop from 26 to 30 April.
Mr Pasakos, an Arts Academy Lecturer, has been invited by managers Soula and Theo Mantalvanos to participate in this unique and great opportunity as an Artist in Residence.
Sir Arthur Streeton was an icon of Australian art who contributed greatly to the landscape and language of Australian art through his paintings and prints.
At a young age, he was introduced into art through lithography, a printmaking method. He was a self-taught artist and through practice and learning became a great Australian artist.
William Streeton, grandson of Sir Arthur Streeton, and partner Susan, walked into the Queenscliff Gallery and Workshop late last year and presented rare unforeseen Sir Arthur Streeton etching plates.
Mr Pasakos will contribute to the Artist in Residence Program at Queenscliff Gallery and Workshop.
His inspiration of Streeton's work will transpire into Pasakos creating prints and works on paper for the duration of his stay.
Opening times and dates:
Queenscliff Gallery and Workshop
Address: 81 Hesse Street, Queenscliff, Victoria
Phone: 03 5258 4927
Hours: 10 am to 5 pm, closed Tuesdays.
Jimmy Pasakos is available on 03 5327 8620 or at j.pasakos@federation.edu.au