News
University announces Guirguis New Art Prize winner
Posted: Thursday 30 March 2017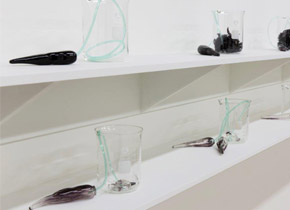 Melbourne-based artist Yhonnie Scarce has been awarded the prestigious Guirguis New Art Prize (GNAP) at the Art Gallery of Ballarat.
GNAP17 judge Simon Maidment awarded the $20,000 prize to Yhonnie Scarce for her work The More Bones the Better, 2016 - an installation comprising six medical beakers, tubing and hand blown glass. 
"The winning work by Yhonnie Scarce captures the sensitivity to materials she displays throughout her artistic practice," Simon Maidment, Senior Curator, Contemporary Art, National Gallery of Victoria (NGV), Melbourne, said.
"The blown and shattered glass elements are a delicate contrast to the shocking and little discussed histories of Aboriginal exploitation and abuse in the name of science in Australia.
Engaging this topic, this work is haunting, in the same way those lived and documented experiences continue to haunt the collective unconscious of this country," Mr Maidment said.
"Yhonnie Scarce's work, The More Bones the Better, 2016, I believe makes an important contribution to the Collection of Federation University Australia and will engage and move diverse audiences with its technical accomplishment, beauty and message.
"I thank Mark Guirguis and the staff of the organisation for creating this important opportunity for an Australian artist, and the other artists, who would all be worthy winners."
At the formal opening, Shelley Hinton, Curator of the Post Office Gallery at Federation University Australia, expressed how much of a privilege it was to be able to present the exhibition for the local community.
It also was a privilege for the University to be able to acquire important works by artists such as Yhonnie Scarce for the University's Collection - a work which raises significant issues that still affect Indigenous communities today.
"The work challenges us ethically and culturally and in a way that pleads for analysis," Shelley Hinton said.
Yhonnie Scarce was born in Woomera (SA) and belongs to the Kokatha and Nukunu peoples. Scarce embraces a non-traditional approach to glass-blowing using glass as more than a mere material. Acting as a lens and a mirror, Scarce reflects and exposes the tragedies of Australia's colonisation.
Within her research, Scarce encountered a variety of ethnographic studies examining the use of scientific interventions amongst Indigenous cultures. This work metaphorically looks at these situations and poses questions of what might have gone on in such laboratories.
As Yhonnie was unable to attend the opening, the artist expressed her gratitude through a speech read out by her good friend, fellow South Australian artist and GNAP17 finalist Julia Robinson, who conveyed Yhonnie's gratitude to the University and to Mark Guirguis.
Now in its third iteration, GNAP17 will again inspire and challenge audiences with work exhibited across the two city's public gallery sites – FedUni's Post Office Gallery and the Art Gallery of Ballarat.
"The Gallery is delighted once more to be the host of the prestigious GNAP prize and exhibition. The eclectic range of artistic modes and imagery will delight some and challenge others," Gordon Morrison, Director of the Art Gallery of Ballarat said.
As with the previous two Prizes, the finalists for GNAP17 were selected by way of a consultative model, whereby curators at major Australian public galleries were invited to recommend artists for shortlisting.
Finalists included Abdul Abdullah and Jumaadi from New South Wales; Joel Arthur and Peter Vandermark from the ACT; Carly Fischer, Natasha Johns-Messenger, Yhonnie Scarce, Esther Stewart and the art collective DAMP (Narelle Desmond, Debra Kunda, Sharon Goodwin and James Lynch) from Victoria; Julia McInerney and Julia Robinson from South Australia; Brian Robinson from Queensland and Erin Coates and Alistair Rowe from Western Australia.
From the pool of sixty artists, fourteen artists were selected as finalists for the 2017 exhibition and Prize.
Mark Guirguis' vision and commitment to highlight the importance of contemporary art and FedUni's Arts Academy Ballarat campus has been a major success.
"Contemporary art is powerful and important as it relates to contemporary life. Now very much on the national radar, GNAP is a very special biennial event and exhibition, particularly for a regional city," Mark Guirguis said.
GNAP17 Includes video, sculpture, painting, photography, textiles, installation and sound, with several hybridised mixed-media installations which explore richly layered ideas surrounding illusion and the 'gaze'; the domestic and gender issues; indigenous culture and traditions; fantasy, fact and fiction, and life, death and politics.
Yhonnie Scarce's work will join Ash Keating's highly charged three-channel video installation West Park Proposition, 2012, from GNAP13 and Lou Hubbard's dramatic work, Dead Still Standing, 2014, from GNAP15.
"A broad range of public programs for GNAP17 will include artist talks on Wednesday nights at the AGB, 'Disruption & Art' – a forum featuring Abdul Abdullah on Saturday 8 April, mechatronics workshops by artist duo CAKE Industries, Jesse Stevens and Dean Peterson, plus a special education program of teacher/student previews," Shelley Hinton said.
"Since the Prize's inaugural launch in 2013, GNAP has supported forty artists working in new and emerging media and technologies, from every state and territory in Australia. GNAP is now firmly positioned on the national visual arts calendar.
"As a result of Mark Guirguis' initiative and acquisitions from GNAP winning artists, it will represent an important period of collecting of Australian contemporary art – a wonderful legacy from Mark Guirguis for FedUni and the local and broader community."
Further information may be accessed at federation.edu.au/gnap.
The Art Gallery of Ballarat and Post Office Gallery will be open from 10am to 5pm daily. Entry is free.