News
Chinese automotive students training at SMB Campus
Posted: Tuesday 21 March 2017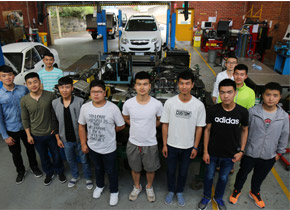 Eleven automotive students from China have arrived to undertake a year-long automotive course at Federation University Australia.
In a first for the University, the Chinese students will complete an accredited automotive qualification at the SMB Campus in Ballarat.
"The University is delighted to welcome our new students and we are confident they will enjoy their time at FedUni," Barry Wright, Executive Director of FedUni TAFE, said.
"During their stay here the students also will also study English, have the opportunity to undertake work placements at some of our local dealerships and participate in the Worldskills regional competitions."
Eight of the students are from Wuyi College in Chongqing, China, which is a vocational college specialising in automotive studies.
The other three students are from ChangAn Automotive Company, which is the fourth largest car manufacturer in China.
ChangAn has a special partnership with Wuyi College and both are keen to have their students gain international experience and skills in the automotive sector.
"While they are in Ballarat the students will live on our University residences experiencing the Australian student culture," Mr Wright said.
"We plan to have more delegations visiting us in the future and we are working closely with Wuyi College and ChangAn to develop an internationalised curriculum.
"By doing this it is planned that more Chinese automotive students will be able to study here in Ballarat, with us gaining a nationally accredited qualification.
"This is a very exciting time for us because it signals the growing internationalisation of vocational training."