News
Professor Peter Gell co-edits new environmental research book
Posted: Thursday 9 March 2017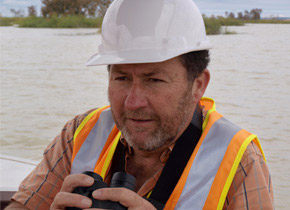 Federation University Australia's Professor Peter Gell is one of four editors of the newly released volume 'Applications of Paleoenvironmental Techniques in Estuarine Studies', which is part of the prestigious Springer series Developments in Paleoenvironmental Research.
"Paleoenvironmental Techniques unearth the fossil evidence for long term change in the nature of estuaries," Professor Gell said.
"Anything with a shell or hard skeleton that has lived in an estuary leaves behind evidence of its existence in the sediments which build up over thousands of years.
"Evidence of past estuarine ecosystems can also be divulged from the sediment's organic matter that can also be analysed," Professor Gell said.
"By slicing up a sediment core researchers across the world have revealed the history of estuaries and their response to climate and sea-level variability and the impact of humans."
The 700 page volume examines a wide range of sampling techniques and the chemical and biological indictors that can be preserved in sediments.
The book finishes with case studies examining the history of several estuaries including Chesapeake Bay, the Everglades, The Baltic and the Coorong in Australia.
"While there are several contributions from Australian scientists, the book has a strong international focus with authors from over ten countries," Professor Gell said.
Dr. Jessica Reeves, also of Federation University Australia, published a chapter on ostracod crustaceans. Professor Gell authored three chapters including the Coorong case study and the implications of the evidence of long term change on the management of estuaries worldwide.