Ms Rhonda Whitfield
Position on Council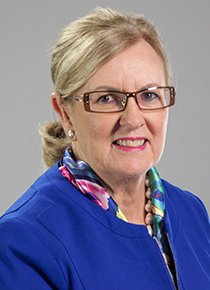 Governor in Council appointee and Deputy Chancellor
Present occupation
Non-Executive Director, Mediator, and Executive Mentor
Board Chair of a Victorian not-for-profit service for people with intellectual disability, Non-Executive Director of a charitable foundation, a group of community pharmacies, and an Australasian network of elder mediators.
Academic qualifications
Graduate Diploma Business Administration (GDBA), National Mediator Accreditation Standards (NMAS) and Registered Nurse (RN)
Summary of previous experience
Rhonda is an accomplished non-executive director with more than fifteen (15) years governance experience acquired at for-profit and not-for-profit boards in the sectors of technology, health, Victorian Government emergency services, disability, art, sport and parks.
Her practical application of rigorous governance is underpinned with sector-specific governance skills development for disability services and Victorian Government health networks. This is in addition to for-profit business governance education through the Australian Institute of Company Directors. Rhonda's constructive work in governance, mediation and executive mentoring followed a flourishing, commercial career within information and communication technology, global pharmaceuticals and health.
Particular areas of expertise / interest
Quality and governance, business strategy and general management
Many aspects of access to non-judicial justice and social justice especially for people with intellectual disability, frailty and vulnerability associated with aging.
Neuroscience and human-centred innovation.