Ms Nicola Pero
Position on Council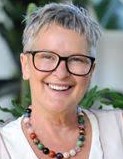 Governor in Council appointee
Present occupation
CEO of Food and Fibre Gippsland
Academic qualifications
Master of Business Administration (MBA), Master of Arts Industrial and Organisational Psychology (Magna Cum Laude) (MAIOP), Six Sigma Lean and DFFSS.
Summary of previous experience
Nicola's previous roles include CEO of Lardner Park, Strategic Consultant to ISAAC Regional Council and Group CEO of $3B mega-project @bahrain.
Nicola brings over 25 years global experience in executive leadership spread across more than four continents; from commercial industry, not for profit, Government, and community agencies. Nicola holds multiple Board positions and Government-appointed Committee representations.
Nicola is also a Commonwealth Authorised Celebrant.