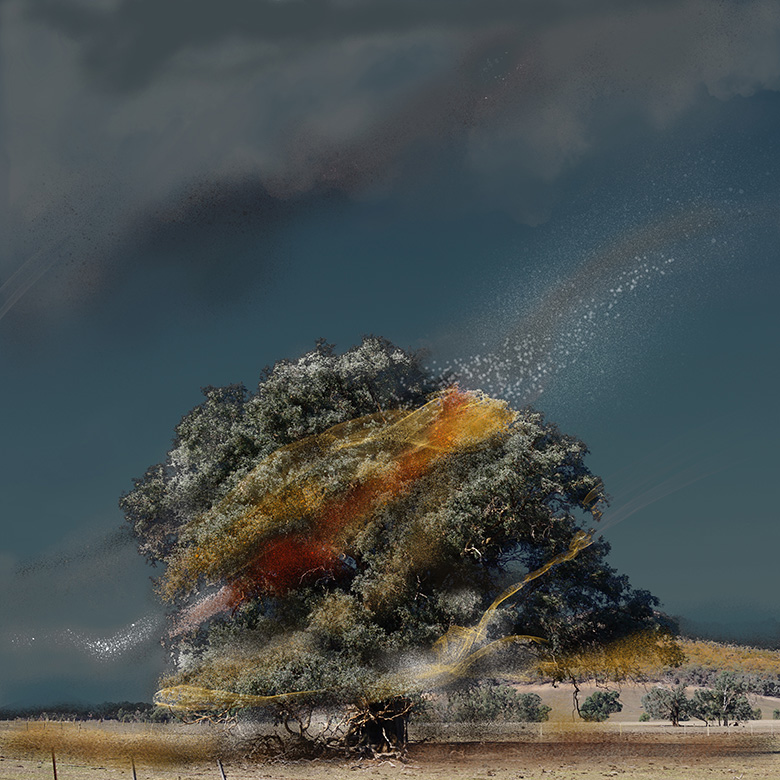 LAUREN MURRAY: TO WANDILIGONG - A VISUAL JOURNEY THROUGH MEMORY, TIME, SPACE, LIGHT, LANDSCAPE AND FOURTEEN LAYERS OF GLASS
FRI 31 JAN – SAT 15 FEB 2020
Images recording travel have been part of numerous cultural traditions. The use of maps and images across time has enabled discovery and provided historical documents of great beauty. Maps and diagrams have been used for millennia across many cultures.
Presenting 16 digitally augmented photographs, Lauren Murray's work and research explores her journey through the landscape - the nature of time, light and distance with the ongoing changes to the climate of particular interest to her. The "fourteen layers of glass" refer to the car window, the lens of the camera, the lens of the artist's glasses and the surface of her iPad. The images are accompanied by a 9.3 metre story map, drawn in coloured pencils, pastels, charcoal, graphite and chalk.
Using photography, drawings, digital and analogue media, Lauren Murray's work explores a visual journey within an observed environment. Her photographic images, frozen in time, combine with maps to provide beautiful explanations of place, time and season.
Lauren Murray's exhibition was opened on Sat 1 Feb @ 2.30pm, with remarks by Dr Carole Wilson, Deputy Dean, School of Arts, Federation University.
This exhibition constitutes the visual outcomes emerging from a practice-led Masters research project at the School of Arts, Federation University, Australia. Lauren Murray is supported by an Australian Research Training Program (RTP) Fee Offset Scholarship through Federation University, Australia.
Image: Lauren Murray, Catastrophic Fire Warning, 2019. inkjet print on Canson rag paper. H100 cm x W100 cm. Courtesy the artist.