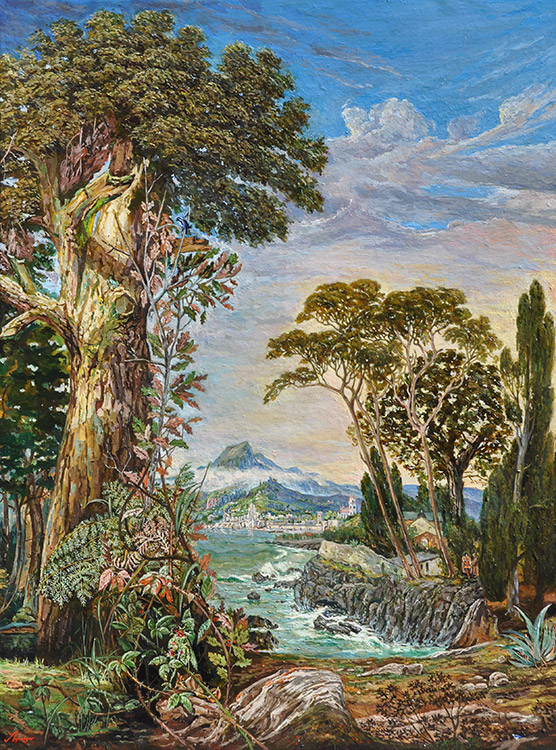 Jeff Woodger: Channelling Romantic Landscapes
Wed 16 Oct - Sat 9 Nov 2013
Jeff Woodger's passion is to paint post romantic landscapes in the classical style.
His majestic panoramic works are deeply inspired by many of the seventeenth century greats such as Claude Lorraine and Salvator Rosa. However, while Woodger's interests lie in tradition and cultural history, he actively reconfigures these majestic places superimposing his own newly revised contemporary reality.

In the early 1990s, whilst undertaking his Masters studies in Fine Art, Woodger started to paint classical and romantic landscapes in the style of 19th century French Barbizon School artists, inspired by specific works selected from Bendigo Art Gallery's Permanent Collection. Here he painted his first in situ work on masonite inspired by a painting by the French Barbizon School artist Théodore Rousseau.

The experience of working in situ from paintings in museums is one which has held great appeal for Woodger, who at a young age during a trip to Spain, was deeply inspired by the experience of witnessing an artist copying an El Greco painting in the El Greco Museum, Toledo.

Between 1994 and 2010, Woodger travelled to and intermittently lived in Japan to study traditional Japanese ink landscape painting techniques, known as Suiboku or Sumi-e. During these studies he discovered The Mustard Seed Garden Manual of Landscape Painting - a 17th century guide used by Chinese and Japanese landscape painters which reinforced his theories of appropriation and copying the masters. As The Mustard Seed Garden Manual states, The artist must absorb the methods of the ancients who are established masters and then add their own distinctive touches.

Since completing his Doctor of Philosophy (Fine Art) and thesis titled An Inquiry into Suiboku and Kano School Influences on Rococo and Romantic Landscape Painting Through Claude Lorraine (1600-1682) and Salvator Rosa (1615-1673) at the Arts Academy, University of Ballarat in 2006, Woodger has worked in situ at many major galleries in Victoria including the Art Gallery of Ballarat, Warrnambool Art Gallery and Castlemaine Art Gallery and Historical Museum and internationally at The National Gallery, London; the Shizuoka Prefectural Art Museum, Shizuoka City, Japan; the National Gallery of Art, Washington DC and the National Gallery of Canada.

Channelling Romantic Landscapes reflects Woodger's passion for the grandness of the panorama and a desire to create his own 'romantic' vision. In these works he shifts perceptions of time and place while referencing history and popular culture to create his own 'new romantic' fictional realities.
Image: Jeff Woodger, The Force that Compels the Deep Sea, 2012 oil on canvas 101 x 76cm. Courtesy the artist