With an eye to the future, Federation celebrates 50 years of beer
14 October 2021
---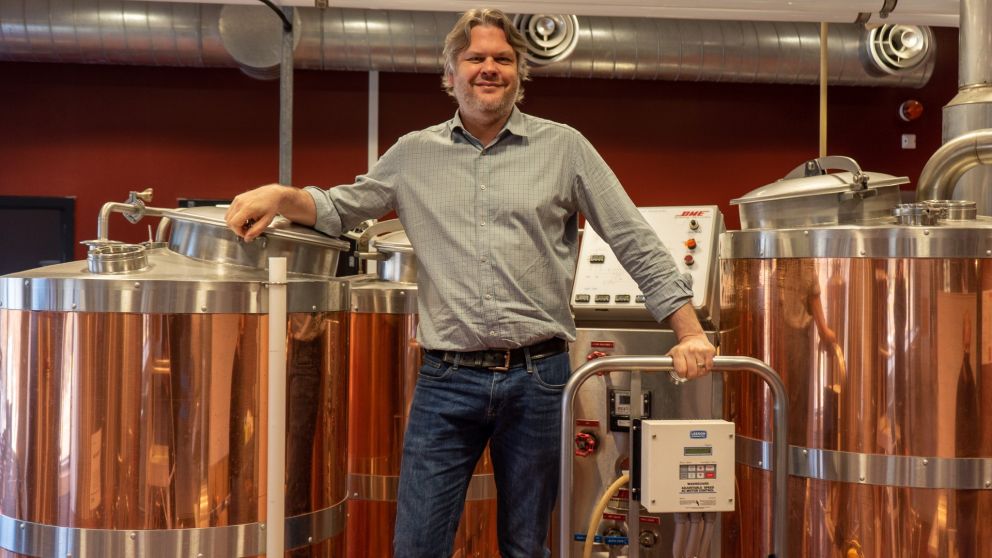 The next generation of craft brewers can tap into the knowledge and experience from 50 years of brewing at Federation University as the famed brewing course looks to the future to stay at the forefront of the industry.
2021 marks the 50th anniversary since the first brewing course was offered at the Ballarat Institute of Advanced Education (BIAE), a predecessor institution to Federation.
The brewery's beginnings can be traced back to the late 1960s when Geoffrey Barrell, Senior Lecturer in Organic Chemistry at the BIAE, travelled overseas to study the possibility of setting up a postgraduate malting and brewing course in Ballarat. He had been the chemist and assistant brewer at the Ballarat Brewing Company between 1948 and 1950 before starting at the BIAE.
The first lectures commenced in 1971 and were mainly at the Lydiard Street South campus, now SMB Campus, across the road from the Ballarat Brewing Company, famous for its 'Bertie' labelled Ballarat Bitter. Students were also completing some subjects at the new Mount Helen campus.
The brewing course became the first of its type to be taught at a university in Australia and Federation is the only institution to provide postgraduate studies in brewing.
Dr David Bean, Senior Lecturer in Microbiology and Fermentation Technology in the School of Science, Psychology and Sport, heads up the brewery with Associate Professor Andrew Greenhill, Discipline Leader of Life Sciences within the School of Science, Psychology and Sport, and chemistry Lecturer Dr David Smith. Dr Bean said the brewery would continue to innovate and grow with the industry's changing trends.
"We've got this proud history of teaching the science behind making great beers. But trends in beer drinking change, and so do the expectations of brewing students. It is important that our course remains contemporary and reflects evolving industry trends to carry on that pedigree to teach the next generation of brewers," Dr Bean said.
"We've been in consultation with industry partners to ensure the courses are what people in the field want – we have to ensure that the course is fit for purpose for generations of brewers.
"If we were to have a look at alcohol sales, the sales of general bright lagers – which is what most people consider a typical beer – are trending downwards. Those that are trending up include craft beers, which is what most of our students are interested in, but there are also products like low-alcohol beers or even no-alcohol beers that are growing in popularity and worth considering a little bit more."
Dr Bean said the brewing course could follow the lead of the new Bachelor of Sustainable Food Systems degree – an Australian- first degree in food sustainability that combines practical TAFE skills training with the critical thinking and analysis skills of a university degree.
"Our new innovative and disruptive program is really leading from the front, particularly in the food space, and we intend to apply a similar sort of approach to brewing and really integrate brewing within the food sector," Dr Bean said.
Dr Bean said much work was being done in food research, including fermentation, and he is also involved in a project with the What's Your Food or Fibre Challenge, Gippsland? – working with cider producer Gurneys Cider to set up their processes for pasteurisation – giving the product longer shelf life.
Craft beer revolution
Dr Peter Aldred was head brewer from 1998 until early 2020, having joined the university from Carlton and United Breweries (CUB) when the craft beer revolution was just kicking off. To this point, the industry was dominated by a few major brewers.
This wave of interest in craft beers saw the popularity of the brewing course take off.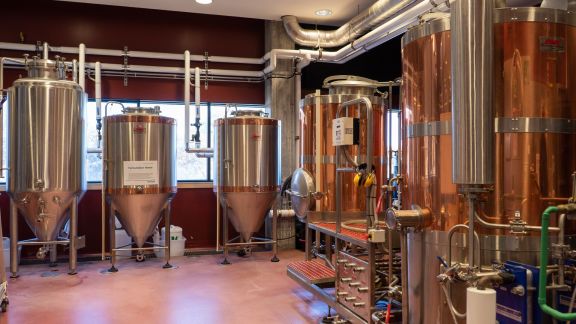 "Craft beers had started getting popular by the time I arrived at Federation. Mountain Goat Brewery, for example, was already up and running, and there were a few smaller craft breweries at the time, but it went from 20 to 30 breweries in Australia during my first years to somewhere between 600 to 700 breweries in 20 or so years," Dr Aldred said.
"When I arrived, the course was in hiatus, so I converted it from a block mode course where students came to the campus for six weeks of the year to a distance education course. It started mostly with written notes and developed through to online lectures and online learning."
Renowned brewing graduates include Rob Callin at Macalister Brewing Co in Cairns, Mathew Moore at Bright Tank Brewing Co in Perth, and Dan Dainton at Dainton Brewery in Carrum Downs. Other graduates have gone on to work for major brewers, including CUB and Lion.
Another student, Dr Kiran Mazumdar-Shaw, completed the Graduate Diploma in Malting and Brewing in 1975 and went on to create Biocon, India's largest biopharmaceutical company. Dr Mazumdar-Shaw is considered India's richest woman and in 2010 was named in TIME magazine's 100 most influential people in the world.
Dr Aldred, who is also a beer historian, said it was fitting that Federation played a key role in training so many brewers in Ballarat because of the city's long association with beer production. This began during the 1850s gold rush, and Dr Aldred says there has only been a short period in the city's history – from the late 1980s with the closure of the Ballarat Brewery – to the early 1990s – where there hasn't been an operational commercial brewery.
The brewing course at Federation also saw the creation of an annual beer awards ceremony which was the forerunner of the Australian International Beer Awards.
Associate Professor Greenhill shared Dr Bean's enthusiasm for the future of brewing at Federation.
"We are proud of our history in teaching the science of brewing, and the efforts of those before us," Dr Greenhill said.
"We will continue to evolve to meet market needs. Not only are there emerging and re-emerging beer styles to consider, but also issues such as sustainability in the brewing industry. Federation is well placed to address some of those challenges."