Scientists put vaccines to the test in unique COVID study
10 May 2021
---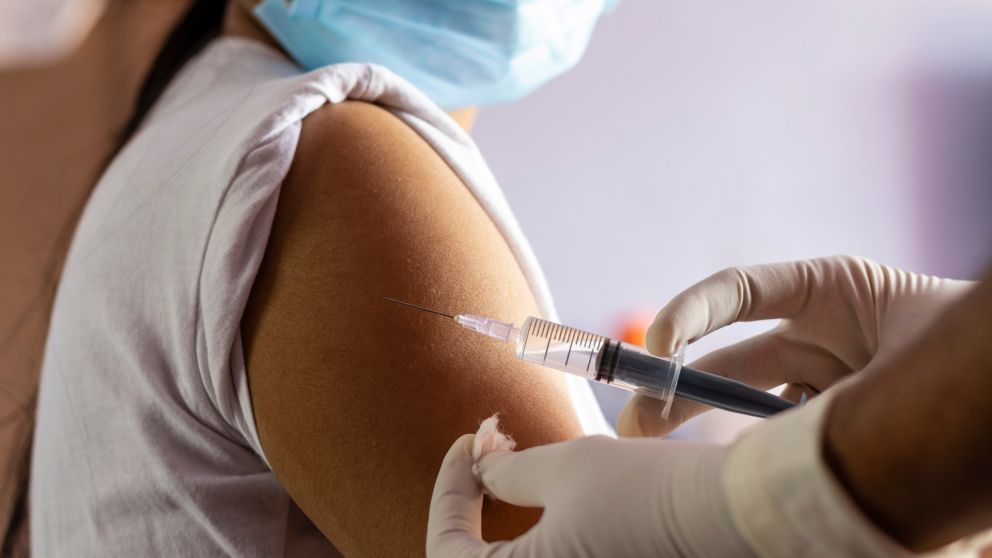 Federation University Australia researchers hope a study of the relationship between the immune system and the protection provided by vaccines against COVID-19 could pave the way for a better understanding of how people will respond to vaccination.
The study, led by Professor Stuart Berzins, is a partnership between Federation University and clinicians at Ballarat Health Services (BHS), in collaboration with the Peter Doherty Institute for Infection and Immunity. The group is aiming to better understand why the effectiveness of vaccination against COVID-19 varies between individuals and will test the effectiveness of the vaccines in healthy individuals and in cancer patients.
Clinical director of Medical Oncology at BHS, Dr Stephen Brown, and senior oncologist, Wasek Faisal, are co-investigators in the study that will encompass the Pfizer and AstraZeneca vaccines, which are approved for use in Australia.
A study published in the journal Science has highlighted the key role Mucosal Associated Invariant T (MAIT) cells play in generating an effective immune response from vaccines that rely on an adenovirus delivery system. This includes the vaccines against COVID-19 from AstraZeneca and Johnson & Johnson. MAIT cells are a type of white blood cell, and Professor Berzins and his research team, from the School of Science, Psychology and Sport, are internationally recognised as experts in MAIT cell research.
It is hoped the study will lead to a better understanding of the factors important for vaccine effectiveness and potentially allow individuals to be identified who may not respond optimally to vaccination. This would enable clinicians to improve protection for these individuals.
The Peter Doherty Institute of Infection and Immunity is providing the study with specialised reagents that will allow the group to look specifically at immune responses against COVID-19 and will also examine individuals with cancer to determine if their response to the vaccines is reduced.
"Having cancer often means that your immune system is suppressed – and treatments such as chemotherapy can further inhibit your immune system. These patients are mostly being prioritised for vaccination, but this study will probably be one of the first in the world to directly test how effective those vaccinations will be," Professor Berzins said.
Blood samples will be taken before vaccination, then seven days following their first and second vaccinations – the times when immune systems are showing their strongest responses.
The key data will be a comparison between immune responses to COVID-19 before and after the vaccinations. The researchers are expecting to have meaningful data within a few months of the trial beginning.
"The immune response is at its peak about a week post-vaccination when we see a rapid expansion of immune cells that recognise the vaccine. The number of these cells gradually falls, but is maintained at a level much higher than it was initially. This higher 'baseline' provides enhanced protection when the real virus is encountered, although we can best look at the immune response when it's at the peak level." Professor Stuart Berzins
"We will be taking blood samples after the first and second immunisations, but we expect that those results will be similar. Once we've got the first immunisation sample, we think that will tell the story for us to some extent.
"Previous studies of the role of MAIT cells in COVID-19 vaccination have mostly been done with animals, and the work that has been with humans has been done with blood samples from a blood bank – we're fortunate because we're working with Ballarat Health Services, where we can recruit participants and collect blood samples," Professor Berzins said.
The AstraZeneca vaccine is estimated to be 70-80 per cent protective, but scientists aren't certain why everyone who is vaccinated with it isn't getting the full protection.
Professor Berzins said this could potentially be because of MAIT cell numbers. The main subpopulations of white blood cells are similar from person to person, but MAIT cell numbers are highly variable.
"It could be that people who have higher numbers of MAIT cells are better protected, and people who by chance have very low numbers are the ones that aren't responding very well. We will be able to tell this almost straight away," Professor Berzins said.
Professor Berzins said the researchers were also in discussions to extend the study to other regions.
Anyone interested in participating in this study can contact Stuart Berzins, Professor of Immunology in the School of Science, Psychology and Sport, at s.berzins@federation.edu.au