Rapid testing the key to opening up our borders
22 October 2020
---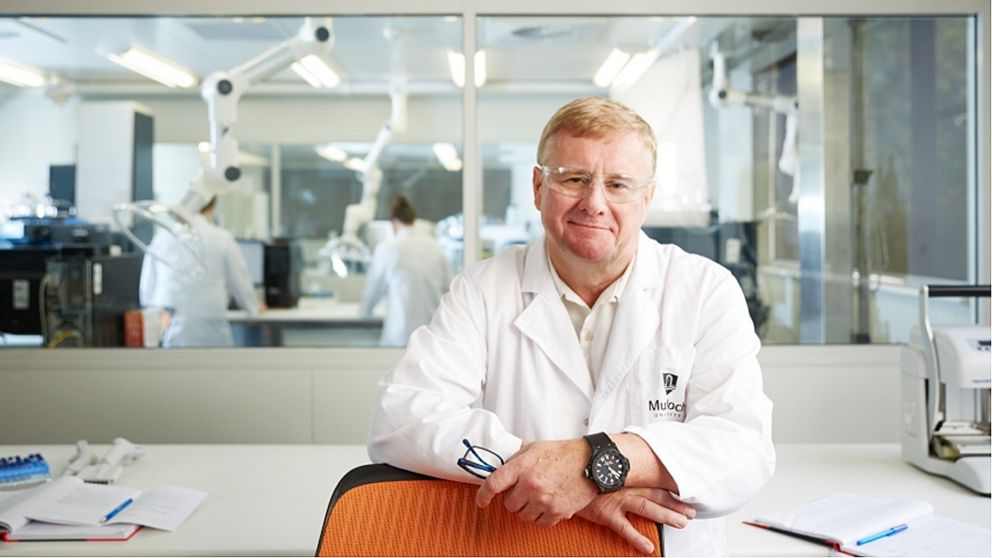 Fast and accurate biochemical testing for COVID-19 could pave the way for the reopening of international borders, with the help of world-leading technology in development at Australia's National Phenome Centre (ANPC).
Professor Jeremy Nicholson, who is the ANPC's Director and also Pro-Vice-Chancellor of Health Sciences at Murdoch University, said existing swab testing for COVID-19 would be augmented by the biochemical tests, making it more reliable in detecting the virus.
"Our lab here in Perth is a super high equipped facility and we can easily deal with the sort of numbers that are coming in under quarantine now and even if international travel did start to open up, we could probably deal with that," Professor Nicholson said.
"What we couldn't deal with is a full opening of all the borders back to pre-COVID international travel — that requires new technology. But we're hoping to develop those new technologies that are field deployable, small, fast and can be used at an airport. This is something we are wanting to develop and the state government here is very interested in that."
Professor Nicholson and Professor Elaine Holmes, the Head of the Centre for Computational and Systems Medicine at Murdoch University, are keynote speakers at Federation University's Founders Day event — Disruption and Transformation in Health Services.
Professor Nicholson's current research is centred on understanding the molecular effects of SARS CoV-2 infection and translational diagnostic and monitoring solutions for COVID-19. He said the ANPC was built to improve healthcare at the population and public health levels, with technology developed at the centre deployable in rapid responses to emerging threats, like COVID-19.
"Almost everybody in the lab is working on COVID-19 one way or another — but the other part of what we do is preventative medicine. We've got a whole series of papers published or in the pipeline looking at personalisation of diet and variation, and understanding variation not only at the individual level but also population level. Ultimately the best way to stay healthy is to eat well," Professor Nicholson said.
"There are two extremes there — trying to behave in a way that keeps you the healthiest and longest-living but at any one time you are always subject to threats from the real world and COVID-19 is a very good example of something that comes out of the blue and turns the world upside down.
"I find it hard to believe that the world will ever be the same again. There's a whole new reality that has to be brought into place — future healthcare is not just aspirations for making people healthy and living longer but also the preparation for what is inevitable which is wave after wave of COVID-19, and until we've got something that can properly defend against that, we're going to get all those waves everywhere. And then what's the next zoonotic threat?"
Professor Nicholson said it was fortunate there were technologies that could address these problems better than any other emergencies in the past, "but the irony is that it's a result of our technology and our capability and our success as humans that we are now open to these threats at the global scale".
And he warned that COVID-19 could potentially never go away.
"Viruses are really difficult to get rid of. Think about smallpox, how long did it take the world to get rid of that, and even that is probably still lurking. Measles is coming back and there is no vaccine for the common cold. There is no vaccine for HIV. You can't get rid of herpes when you've got it," Professor Nicholson said.
"So COVID is going to be around for a long time. You might be able to suppress it and treat it with drugs like you can with HIV which is a lifelong treatment, and it may well be that COVID-19 is exactly like that. And that was nowhere near as infectious as this, not even close. Professor Jeremy Nicholson
"COVID-19 is something where you can cough at someone and they get it four or five meters away, which means the social distancing measures of one-and-half to two meters just don't work."
Just as worrying, Professor Nicholson said, were the potential long-term health effects.
"There's the acute problem that this is a respiratory virus but it has loads of systemic effects – diabetes, liver damage which causes heart failure and type 1 diabetes in children. It looks as though it causes neurological damage as well," Professor Nicholson said.
"All of those things were found as long-term effects in the original SARS 12 years or more after people had supposedly recovered — a very high proportion of diabetics for instance. SARS1 only affected 10,000 people around the world, this could affect tens and probably ultimately hundreds of millions of people.
"If COVID-19 behaves like SARS then we are going to potentially have many tens of millions of new diabetics and people with liver damage. The healthcare burden for the planet has probably just been massively increased."
Federation University Australia is celebrating 150 years since its foundation, with an event focusing on disruption in health services and celebrating the launch of our newest Research Centre, the Health Innovation and Transformation Centre (HITC). Disruption and Transformation in Health Services will be held on Monday, 26 October from 5:30 to 6:30pm. Click here to register.