New Vice-Chancellor brings a world of experience to Federation
24 August 2020
---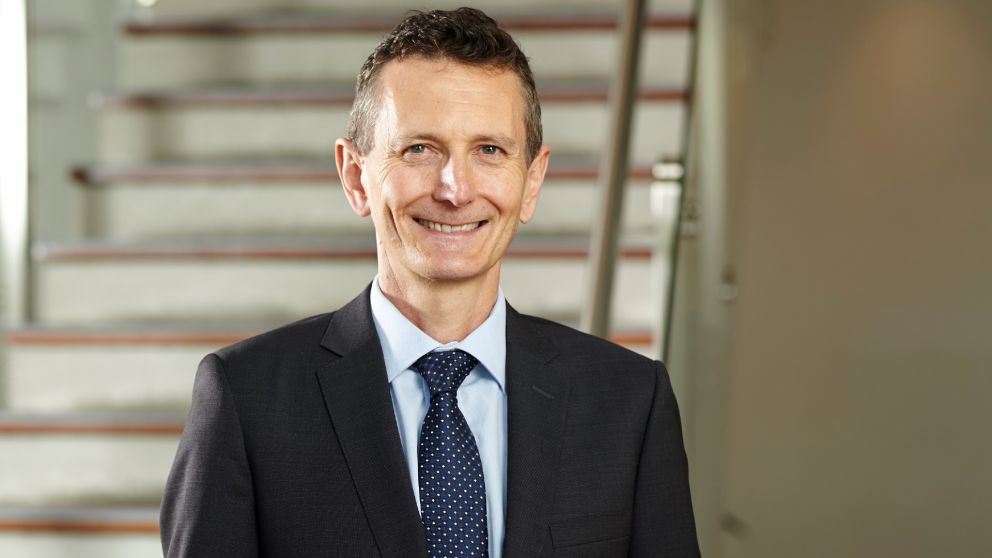 For a child growing up in Botswana, the Okavango Delta's vast ecosystem provides learning experiences that can be carried through life.
The delta, where the Okavango River flows into the Kalahari Desert to form a giant wetland, is famed for its many species of protected wildlife. This was where Federation University's new Vice-Chancellor and President Professor Duncan Bentley spent part of his youth, having moved there with his family for his English-born father's work.
"I was born in Nairobi in Kenya on a coffee farm. My father went out from England to seek his fortune and went into coffee and so I was brought up on coffee farms in Kenya and Zimbabwe," Professor Bentley said.
"We had a period, when I was a child, in the Okavango Delta where my father was running a game reserve and lodge. We ran photographic safaris and I learned all about flora, fauna, preservation and sustainability on the ground in Botswana. That's stuck with me all my life – it was quite amazing being up close and personal with the wildlife."
Professor Bentley completed a Bachelor of Arts and Bachelor of Laws from the University of Cape Town. He went on to complete a Master of Laws from the University of London. There he changed tack and studied chartered accounting, working for Ernst and Young.
"I married a girl whose family is from New Zealand. The idea was to go from London to New Zealand but we stopped on the way and ended up in Sydney and I joined what is now PwC," Professor Bentley said.
"Then there was an opportunity at Bond University who needed a tax lawyer. I thought it looked like an interesting opportunity and that's how I got into academia. I've been in academia ever since."
Before joining Federation, Professor Bentley was Deputy Vice-Chancellor (Academic) at Swinburne, leading the academic, international, online and Indigenous portfolios. Previously, he oversaw vocational education, external engagement and international at Victoria University.
Professor Bentley said Federation was in a strong position to build on its history and being a dual-sector university embedded in its communities, was a great advantage for a regional university. This has been reinforced by the recent Good Universities Guide results, which saw Federation achieving the highest five-star rating in 14 out of 21 undergraduate and postgraduate categories.
"We look after students from every sort of background, which is why we're first in Australia for first-generation students, because whatever their passion or their career or their calling, we've got a place for them and we can pathway them through all the different building blocks they need in order to fulfil their dreams. That's a wonderful environment to work in," Professor Bentley said.
"What I really find so attractive about Fed Uni is the focus on students and the real dedication to student experience and building skills and capabilities, so the students come out and they can get jobs and they can get good salaries and they can fulfil their dreams."
Professor Bentley believes digital innovation needs to be part of Federation's lifeblood, pointing to the success of the Technology Park at Ballarat – the oldest of its kind in Australia.
"It has been hugely successful and we need to build on that success with our new innovation centre at Morwell. And we have a point of differentiation with our Brisbane campus because that is all about innovation and industry," the new Federation Vice-Chancellor said.
Professor Bentley has been involved in international education for 30 years and said while the pandemic had paused international students flying to Australia, the university is working closely with international partners to continue its rich global collaboration as this was "absolutely fundamental" to the globalisation of knowledge.
Life in smaller communities still resonates with Professor Bentley who said there was no better time to be in regional Australia.
As the world continues to grapple with the COVID-19 pandemic, the regions are poised to play a leading role in Australia's economic recovery.
"Research all over the world has shown that the regions are going to drive the economic growth of states and countries – that's what we're seeing from state and federal governments – there are reviews underway to see how we can establish our regions as areas of economic growth," Professor Bentley said.
"To do this you need new jobs, and skills and capabilities to meet those jobs. COVID has given us a situation where people want to move out of the cities, so we're seeing growth already in people moving to the regions around the rest of Australia. And that will only increase because the regions can offer lifestyle, jobs and wonderful highly sustainable communities. Professor Duncan Bentley
"We've got to be moving away from this idea that is common in Australia where the university is separate from communities and businesses. That only happened in the city because there weren't enough jobs and connections to go around. It's quite the opposite at Federation where we should be so embedded in all of our employers, whether it's health, education, government and the small and medium-sized enterprises, which are absolutely blossoming across the regions. We should be absolutely embedded in those employers and providing the skills they need when they need them, as they create new jobs and grow the skills of their existing workforce."
"This is the time for regions – it's an ideal time to be at Fed Uni."