Music theatre graduate lands coveted role at UK school
18 October 2019
---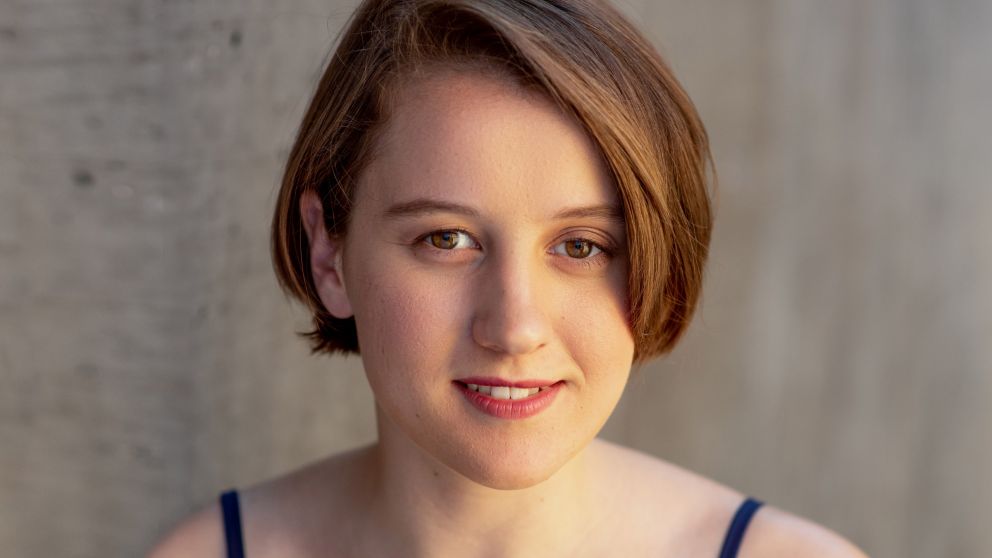 It didn't take long into university life for Sarah Wynen to realise she had made her "best decision ever".
The decision was to enrol in Federation University's music theatre program in Ballarat – her home town – having considered a move away to study.
The first week at university can be a blur for some but a message from the Arts Academy's Director Associate Professor Rick Chew to the assembled group of first-year students had Sarah in little doubt that she'd made the right call.
"He was speaking from the heart and talking about the reasons we were going to change the world – I'll never forget that," Sarah said.
The 21-year-old recent graduate has jetted off to the United Kingdom, having been offered a 12-month contract with Malvern St James Girls' School in Worcestershire, where she has taken up the position of Performing Musician in Residence and Graduate Boarding Assistant.
The opportunity to work overseas came after Associate Professor Chew invited Sarah and fellow student Katherine Gale to work on his Stari Most project which he composed and was conducting in London.
"For a week of that two-week trip, we were in Malvern working at the school with the students, helping out with the performing arts staff there, getting them really ready for the performance – basically helping them with whatever they needed," Sarah said.
"We were sitting in the lunch room with the teachers one day and they said to me, 'when are you coming back – you're coming back, right? You'd be perfect, we'd love you to apply for the position'."
As Sarah arrived home, she received an email with an application form for the role attached. This ultimately led to her landing the position.
"I didn't know what to say, I thought that this was the best thing ever," Sarah said.
"All of a sudden, I'm going to England. It's crazy."
Associate Professor Chew said he wanted to take the students to the London premiere of his show and give them the opportunity to work as creative interns on the project.
"I wanted to see how they'd present in that context, so we applied for a grant from the Ballarat Arts Foundation, who have been very supportive of our students. They funded the flights, along with a little help from the University, and we went out and worked with the senior choir at the prominent, independent school Malvern St James and they provided the chorus for the London concert," Associate Professor Chew said.
"So Sarah and Katherine, who is also extraordinary, worked with the choir. They also attended all the orchestral rehearsals and they sang in the chorus for the performance.
"Sarah was immediately invited by the head of performing arts at the school to apply for this rather prestigious position and she got it, against all the graduates that they have coming out of the English colleges. So what does that tell you? Associate Professor Rick Chew
"It was really good for me because I could see how these guys are tracking in their training here in that context over in the UK."
Associate Professor Chew described Sarah as an outstanding student who was emerging as an artist and a presenter.
"Sarah has the skills of a performer, which she's honed during the studio-based training that we run here, but she's now looking to also make her own work, to move into direction," Associate Professor Chew said.
"I think Sarah's going to do great work. She's already started making her own work – she's extremely bright, she's got good taste, she's got a good sense of who she likes to collaborate with."
Associate Professor Chew said the Academy was not just trying to train performers, but was training people to have a broad skill set that they could apply to the performing arts and creative industries.
"We want to attract people who are open and curious and savvy to the various industries that they're going into. So although we may call it music theatre or acting for stage and screen, it could be a multiplicity of things they end up doing.
"Some students go on to become professional performers, some become teachers, some return to us later as sessional staff or go on to do other surprising creative things."
Sarah said receiving the grant from the foundation opened up a new realm of possibilities, allowing her to immerse herself in artistic engagement that she didn't know existed.
"I was able to form friendships and connections that have now led to an offer of employment in a field that I passionately want to pursue," Sarah said.
"As a Ballarat local, it is inspiring to know there is so much happening in our city to foster the careers of young artists, and I hope that one day after my world-wide adventures I can come back to the place that will always be my home and continue to help strengthen the next generation."