Key link in the chain – the essential element for major event success
12 October 2022
---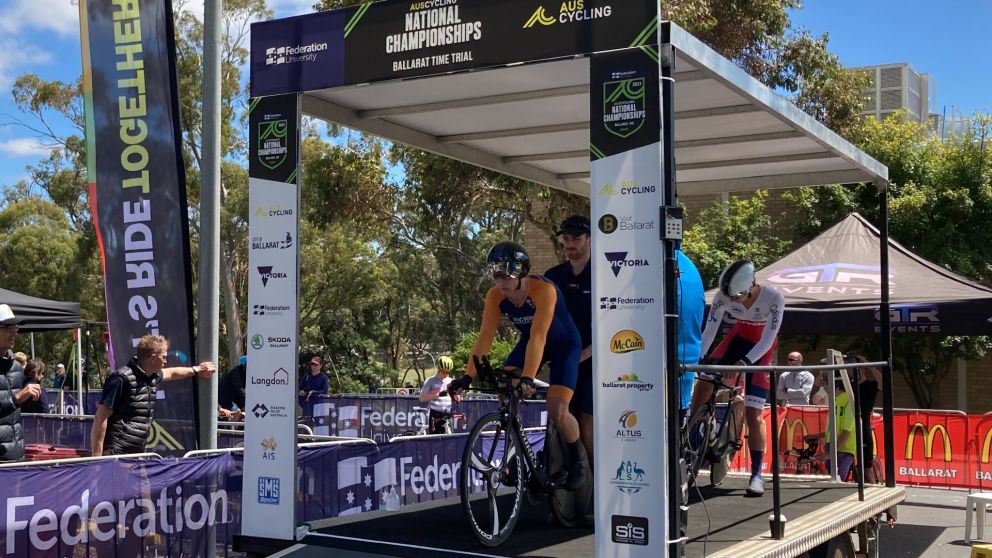 A case study of the 2021 Federation University Road National Championships has been published in a book that explores the impact of COVID-19 on sport, detailing the challenges many organisers went through to survive with venues closing and events cancelled around the world.
The case study features as a chapter in the book Routledge Handbook of Sport and COVID-19 by Federation University researchers Dr Alana Thomson, Dr Verity Archer, Associate Professor Abdel Halabi, Josh Ambrosy, and the Executive General Manager of Sport at AusCycling Kipp Kaufmann.
Dr Thomson, an International Sport Management Lecturer in the Institute of Health and Wellbeing, says the book could be drawn on as a reference for organisers of sports events facing significant challenges but also for the knowledge that can be gleaned from major event logistics.
"We looked at the logistics during COVID but there's actually very little known about the logistics of running events like a road race," Dr Thomson said.
"The available sporting event management literature often looks at tightly controlled venues. Typically, there is one entity that owns the venue that runs the event. But with a road race, it's very different. There are many more players and more variables that organisers need to consider."
A key element of putting together the chapter was AusCycling's participation, she says.
"AusCycling was really open. As one of the co-authors, Kipp Kauffman gave us access to information that a lot of other sporting organisations wouldn't be so open with," Dr Thomson said. "And this book chapter is the first to look at event logistics outside of stadiums, so it's a really unique contribution."
"That shows a real commitment to wanting to get the most out of this event. We've had it here in Ballarat for several years but there is still much more we can do around it. And part of that, from my perspective as a sports researcher and lecturer, is asking what we can learn from it, how we can give students insights into how things work, and how we can do a better job in the future."
"One of the big things that might surprise people is AusCycling's approach was to go in and run the event as normally as possible. Many might expect that everything would be adapted to make it as COVID-safe as possible. Auscycling's approach was that they previously had plenty of experience running the event. The best approach was to run the event as normal as possible and then identify where the pain points were," Dr Thomson said.
There were some exceptions – VIP areas were excluded, and crowd capacities were reduced at some key viewing points.
"As soon you go into an environment like we've had with COVID, there are many more things to consider and it would be easy to start modifying the event. But all this does is bring more uncertainty," Dr Thomson said.
Dr Thomson says some of the lessons from running the event could be applied to the 2026 Commonwealth Games that will be staged across five regional hubs in Ballarat, Bendigo, Geelong, Gippsland and the recent inclusion, Shepparton. She has been speaking with regionally based groups keen to benefit from staging events.
"Melbourne has hosted great events for many years and the city has a great reputation for doing that but our regions haven't hosted international level sports events at a scale like this before. This book chapter will also help to flag the issues that we need to be thinking about in the regions," Dr Thomson said.
"It's a big jump from hosting regional or state championships to a Commonwealth Games, it's a big step up, and there is going to be a real thirst for knowledge with the logistics component. There will be a lot of people and equipment of all sorts coming into the five different regions and then having to get everything and everyone back out again. It's a huge operation," Dr Thomson said.
"The more we can give people access to information around an event, get people thinking about an event like the Road Nationals as an important test event in the lead up to the Commonwealth Games, this can offer a really important perspective."
The book chapter's perspectives on the practical elements of hosting a large event were also important as there is very little content about this in textbooks.
"In many sports management courses, logistics is very cursory and doesn't get into the nitty gritty – people learn the logistics part on the job. Now, why is that important? We could keep learning on the job but now there's huge pressure on events to be sustainable as well," she said.
"In Brisbane, for instance, we're committed to not just climate-neutral but a climate-positive Olympics in 2032. For an event that brings people from all over the world and builds new venues, climate-positive is a huge commitment, and a big part of where carbon is produced for an event is through bringing things in and out.
"So if we're just touching on this when we're teaching, the students are not getting that full understanding of the complexity and the different variables that come into play."
The 2023 Federation University Road National Championships will be held in Ballarat and Buninyong from January 6-10 2023.
Related reading:
Creating positive legacies through sport