Harnessing the power of many
1 September 2022
---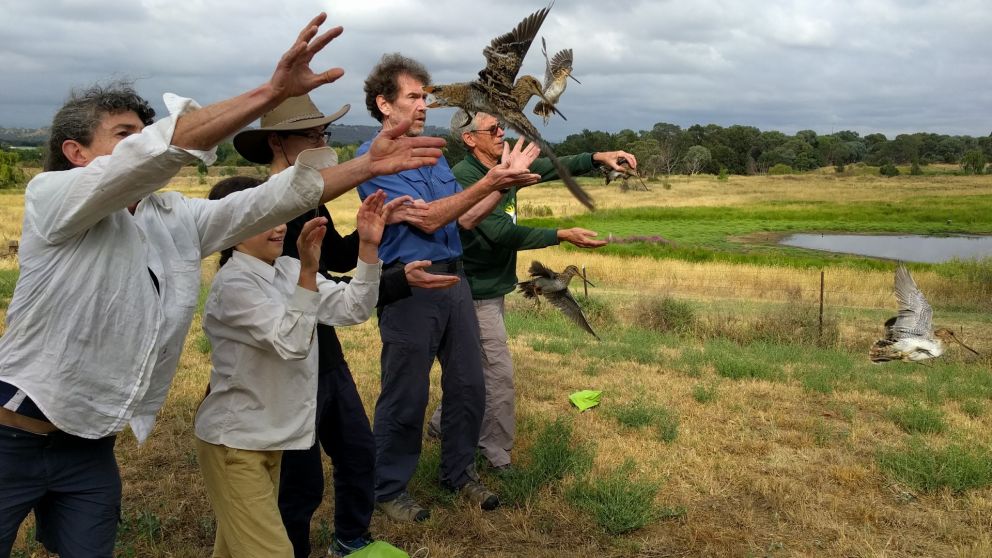 Federation University's Centre for eResearch and Digital Innovation (CeRDI)has been instrumental in an ongoing citizen science project monitoring the 150g migratory shorebird known as Latham's snipe, which flies from Japan to Australia each year. Now CeRDI is also assessing the value of the urban wetlands that the bird uses.
Back in 2014, Dr Birgita Hansen, Collaborative Research Network Research Fellow at Federation University, became involved in monitoring Latham's snipe after she was made aware of developments threatening its habitat. The research was meant to go for five months. But gradually more and more members of the community became involved, and soon there were groups across Tasmania, Victoria, NSW and the ACT monitoring the snipe.
Profile: Associate Professor Helen Thompson
"We had this snowball effect," Dr Hansen says, noting that data on the bird now comes in from more than 300 sites. "It would be absolutely impossible for professional scientists to conduct this study. The scale at which we now operate rules it out."
But making sense of data gathered in different ways by hundreds of volunteers was a hurdle. If the information was to be used in policy making or as evidence in anti-development court cases, the research had to be robust.
"Citizen science data sets can be complex, they can be messy and they don't really fit together well," says Dr Hansen. "Volunteers like to do things differently. So how do you capitalise on this enormous pool of knowledge out there? One of the ways you can do this is through technology."
As more organisations became involved, and information such as tracking data from tagged birds was added to the pool, the data became even more complex. There was also a need to find ways to present the information visually so the general public could understand and use it. Dr Hansen sums up the challenge as: "How do we take that traditional ecological research and translate that into the digital world so you can share what you found with the broader community?"
By using the expertise of her colleagues at CeRDI, Dr Hansen has new insights into the distribution of this species.
"Snipe were thought to be distributed thinly across any water feature in the landscape. But we've discovered large numbers of birds congregating in a small number of urban wetlands. We're getting them turn up in 20s, 30s, 40s and sometimes hundreds."
This means the value of particular urban wetlands is far higher than previously thought, making policy and development decisions about wetlands even more critical.
Thanks to a $100,000 grant from the Australian Urban Research Infrastructure Network, Dr Hansen and the team at CeRDI are involved in a new project that is pulling together information from various sources to establish a way to quantify the value of urban wetlands.
She says this means that someone will learn that the "crappy little swamp at the end of my street" may be vital for particular species. "Without the CeRDI team we wouldn't even be able to think about this," she says.
Director of CeRDI, Associate Professor Helen Thompson, says the Centre has been involved in many citizen science projects, using its expertise to help non-scientists collate and use data that is increasingly vital in monitoring wildlife and habitats. This has included such programs as Whalewatch, Estuary Watch and Moth Tracker (a recent citizen science project that logs the migration and numbers of bogong moths).
"All these programs are underpinned by technologies that are for non-scientists," Associate Professor Thompson says. "At CeRDI we have a strong technical team that is transferring that science or social science to the real world. It's vital research, because, say in the case of Moth Tracker, if the bogong moths don't get to the Snowy Mountains, the baby pygmy possums that eat them die."
CeRDI's expertise in eResearch, web-based spatial mapping, data interoperability and visualisation is being tapped into by many different industries and community groups both nationally and internationally, including pastoral companies, government bodies, research organisations and catchment management authorities.
"Our role is on the data and how well all of that can be brought together in an efficient way," Associate Professor Thompson says.
Related reading:
This bird's stamina is remarkable: it flies non-stop for 5 days from Japan to Australia, but now its habitat is under threat
Understanding the big role of small farm dams
Transforming farming for a carbon-neutral future
How data could change life down on the farm