Graeme Drendel's Portrait of Jill shortlisted for Archibald
2 June 2021
---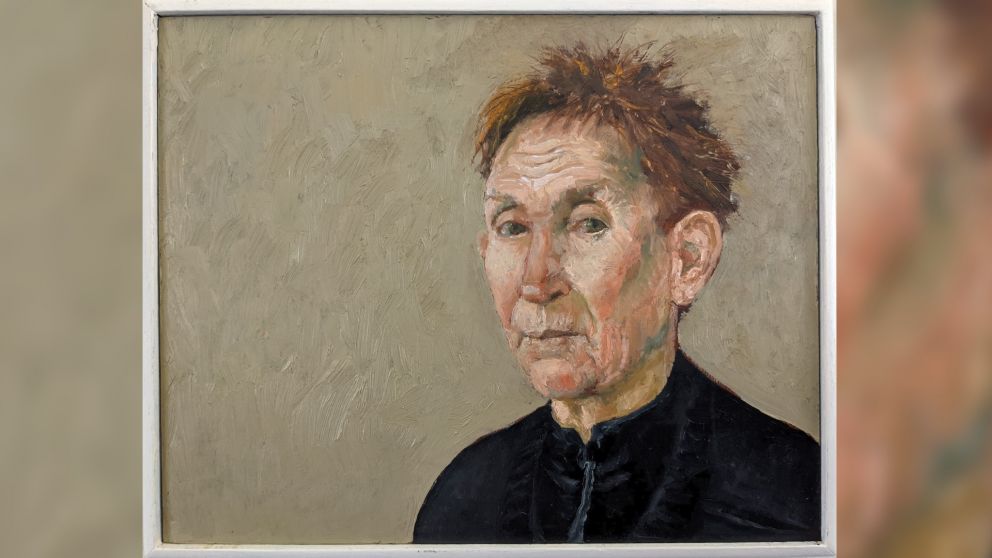 A portrait from renowned artist and former student Graeme Drendel has been shortlisted for the Archibald Prize – Australia's most prestigious award for portraits.
Mr Drendel's portrait of Federation University lecturer and artist Dr Jill Orr is the second of his portraits to be shortlisted for the award and a departure from the figurative art he is best known for.
His decision to enter came just two weeks before the entry date cut off and before he had even started the work. He had painted another small portrait of Dr Orr a few years earlier and asked her if she would sit again. The artists have a friendship that goes back to when they were art students in the 1970s.
"Jill came over to the studio, we chatted for a while, and it was done very quickly. I always have this 'thing' with portraits that I want to do them within a couple of hours," Mr Drendel said.
"It's a fairly intense process for both the sitter and the painter to be sitting just a metre or two apart and staring at each other. It's very intense and it's an unusual situation if you think of two people looking at each other for that amount of time.
"But Jill is a performance artist and she is a perfect sitter because she is used to being still and holding a position that she wants to put across."
The painting is just 20 by 25 centimetres and considered small for an Archibald entrant.
"It's very tiny so I was hardly expecting it to be selected for that reason as much as anything – it was a real thrill. They often have a few fairly small paintings. The painting I had in the Archibald about three years ago was small, but not this small – those that get the most attention are usually larger paintings," he said.
Mr Drendel grew up in Ouyen in far north-west Victoria and moved to Ballarat in the early 1970s to study art at the Ballarat School of Mines and Ballarat Teachers' College in 1971 and 1972. He then moved to Melbourne to complete a Secondary Art and Craft degree at Melbourne State College and met Dr Orr, who was also studying.
Much of his work features individuals or groups of figures placed in a landscape and has often taken inspiration from his upbringing in the Mallee.
His art has been displayed in major exhibitions across Australia for about 30 years, and while it is these figures of solitude and introspection that have been a constant in his work, he is painting a growing number of portraits.
"I've always done a few portraits, I've done a lot of portraits of my family, self-portraits occasionally and artist friends as well, but it's only in the last four or five years that I've started to do portraits fairly regularly," Mr Drendel said.
"I just really love the process. It's such a privilege to have somebody sit for a couple of hours so you can just observe them and really just get into that painting process.
"I've just tried to capture everything about Jill's face. While I'm painting, I'm not thinking of any particular psychological depth that I want to portray or anything – in the end it just comes out through the intense observation." Graeme Drendel
He said he and Dr Orr made a spur-of-the-moment decision on how she would sit. As Dr Orr stared out a window, there wasn't much talking.
"You need to concentrate so much. It was only towards the end of the sitting that I got her to look at me, to turn her eyes towards me to complete the portrait to give it that sort of confrontation," Mr Drendel said.
"I painted Jill about two years before and that was a direct face-to-face portrait – front-on – whereas this one, compositionally, it was just a little bit more interesting because her face was tilted to the side.
"I hope the sitters don't think it's too much of an ordeal. That's also why I limit to around a couple of hours because I just don't want to take up people's time. I feel as though I'm encroaching on their time and it's pretty intense because it is posing for quite a long time without a stop."
Dr Orr said and said it was special to sit with her friend in a very focused and quiet way and the portrait's selection as a finalist in the Archibald Prize was an amazing achievement.
"Graeme and I share our art school days which are very special moments in our lives. We still have special friends from that time and even if we don't see each other a lot, we are an indelible part of the fabric. Both being practising artists is also something that I treasure. It is the lifelong engagement with the creative process that we both understand so well," Dr Orr said.
"It is a thrill to have the portrait in the infamous Archibald Prize. It doesn't matter what the outcome will be, it is a wild ride just getting there."
There are 52 works shortlisted for the Archibald Prize this year, with the winner to be announced on Friday 4 June.