Finding a friend called pain
17 October 2019
---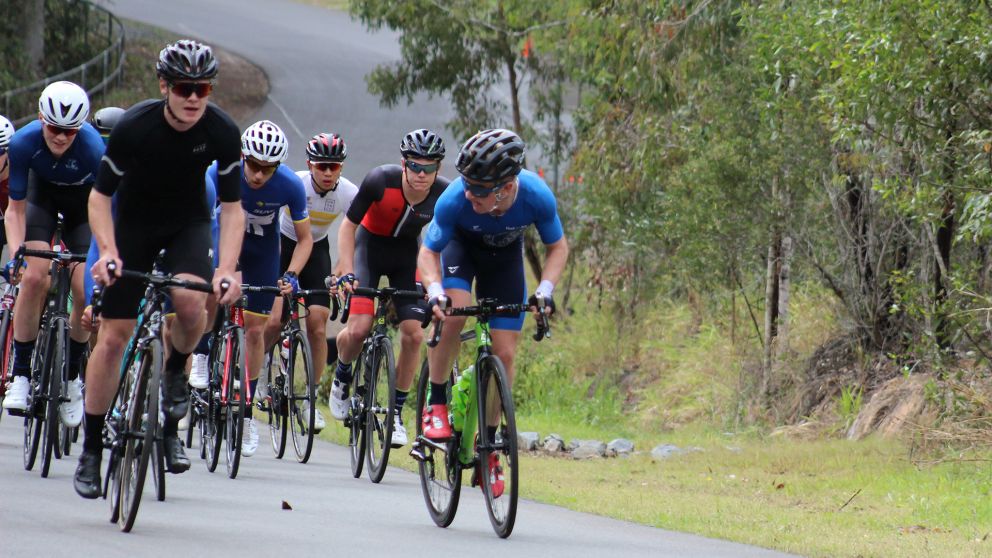 If you were to write a position description for being employed as a professional cyclist one key attribute would appear at the top of any contract – the ability to suffer and deal with pain.
Controversial former American cyclist Tyler Hamilton famously had several teeth recapped after clenching his jaw too tightly dealing with the pain he felt riding stages of the 2003 Tour de France with a broken collarbone. It was an extraordinary example of a rider's ability to endure and conquer.
As a pro cyclist pain comes in many forms. It can be felt dealing with disappointment in a result, the repercussions of a crash, the frustration that comes with a mechanical issue or simply the body burn that comes with climbing a mountain at impossible speeds.
The 2020 Federation University Road National Championships circuit includes multiple repeats of the infamous Mt Buninyong climb, something that challenges riders like student and semi pro cyclist Liam White.
"The road race is definitely one of the toughest, if not the toughest one-day race we will do all year," White said.
"The course is hilly, and each one of the 16 laps of the men's race incorporates a painful six-minute climb that hurts."
Why is it that a cyclist riding up a mountain such as Mt Buninyong feels pain? According to Federation University Sports Psychology Senior Lecturer Dr Chris Mesagno, the pain is a protective mechanism that the body activates when we perceive something might be wrong or damaged within the body.
"Specialised nerves all around the body send 'danger' alert signals to the brain indicating possible danger – or damage – to the body when doing physical activity such as racing a bike," Dr Mesagno said.
"It is a combination of environmental, sensory, and physiological changes that give someone the perception of pain."
In his 2009 book Close to Flying, Tour de France champion Cadel Evans suggested finding a threshold balance between tolerable and intolerable pain was a pre-requisite for success as a professional cyclist.
"I know what my limit is and I'm fully aware of when I'm going above and beyond it," he wrote.
Managing this threshold required associated pain management strategies, Dr Mesagno said. These strategies can be used to find some comfort during the muscle mayhem and excruciating pain associated with pushing the physiological limit.
"Association strategies focus on the athlete accepting the feelings of pain and discomfort experienced when racing and monitoring the body closely during a race," Dr Mesagno said.
"In essence using pain as an exertion measurement tool."
According to Dr Mesagno, for this to happen the cyclist must accept the pain and utilise self-talk to deal with it.
"This cognitive strategy demands the cyclist develops an 'acceptance' mindset that pain in inevitable. Saying phrases like 'this pain will pass' and 'this pain is temporary' is helpful to understand that you can deal with the physical demands and keep pushing the limits." Dr Chris Mesagno
Disassociation strategies can also help a cyclist deal with the pain from muscle mayhem.
"This requires athletes to distract themselves from the pain by thinking of something not associated with high demand physical exertion," Dr Mesagno said.
"Music being played in the head is a great example of a dissociation strategy."
In addition to cognitive strategies, somatic intervention like deep breathing techniques can provide comfort. Deep breathing helps the body get as much oxygen to the muscles as possible and slows the onset of lactic acid build-up, and it assists in finding some rhythm on the bike to achieve an almost robotic state.
Pain comes with the territory for a professional cyclist. The ability to endure suffering and find a place for painful comfort could be the defining factor in determining who wins the Australian titles.
For the winner, the pain will be replaced with the pleasure and reward that comes with wearing the green and gold jersey as Australian champion – a champion who potentially had 1980s rock icon Chrissy Amphlett on replay in their ears as they dealt with multiple Mt Buninyong muscle burn climbs: "It's a fine line between pleasure and pain, you've done it once, you can do it again…"
By Oscar Owens
Oscar Owens is a lecturer in exercise science at Federation University