Federation to launch national reconciliation centre in early 2023
20 December 2022
---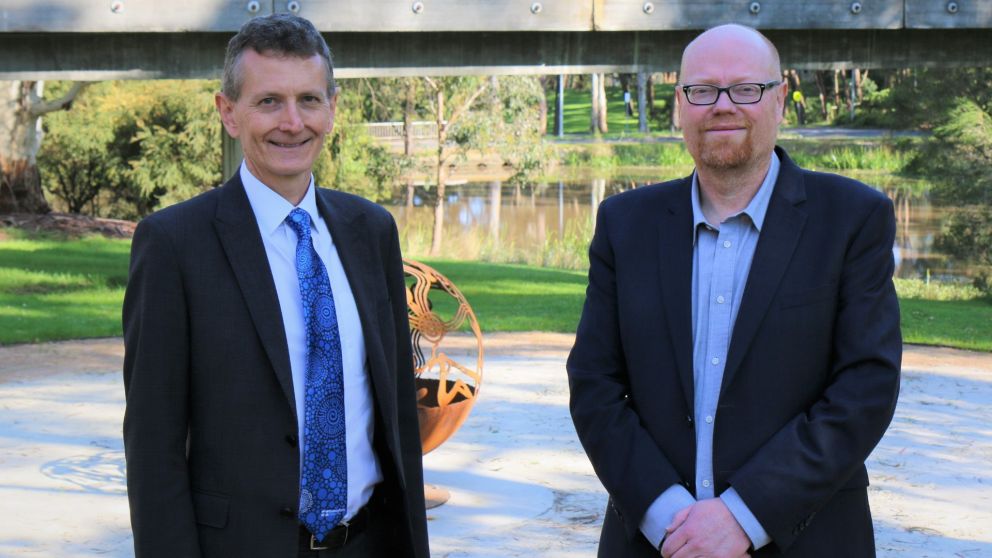 Federation University's new National Centre for Reconciliation, Truth and Justice will engage with industry, community, academia, and government to become an international, national, and regional leader in transformational change, Professor Andrew Gunstone, who will lead the Centre, says.
The new Centre will launch in early 2023, and Professor Gunstone, who joined Federation in October as inaugural Associate Deputy Vice-Chancellor Reconciliation and Professor of Indigenous Studies, says it will play a significant role in key national, state, and regional engagements.
This will include national discussions on the Uluru Statement from the Heart, with its calls for Voice, Treaty and Truth, and state-based dialogues on treaties and truth-telling, including with the Victorian Yoorrook Justice Commission and the First People's Assembly of Victoria.
Professor Gunstone is currently recruiting several internationally recognised Indigenous researchers to the Centre and appointing leading reconciliation experts from academia and industry to adjunct positions. The team will also include Federation researchers from different disciplines.
"Federation has put a significant commitment into this Centre. I am delighted we will soon be appointing two professors and an associate professor, and have recently appointed several adjuncts, including Dr Jackie Huggins AM FAHA, Professor Lester-Irabinna Rigney AM, Associate Professor Emma Gavin, and Associate Professor Sadie Heckenberg," Professor Gunstone said.
"We will be establishing several key research streams in the Centre that will focus on broad areas of reconciliation, truth-telling, and reparative justice. These teams will be led by the soon-to-be appointed Indigenous professors and associate professor and will include several academic and industry adjuncts and Federation researchers from across the University."
Professor Gunstone recently presented at Federation's campuses to detail the new Centre and his role in driving the University's new Reconciliation Action Plan (RAP). He called for expressions of interest from staff who would like to become research affiliates within the Centre.
"I've had some really great conversations already with academic experts across a breadth of disciplines, ranging across health and wellbeing, the arts, science, and education," he said.
"We will be strategic in establishing the research streams. We will focus on a few key areas that will have significant transformational impact rather than being too broad and engaging with dozens of small projects. One example will be the development of a range of education courses on reconciliation and RAPs that will be made available to industry and community." Professor Andrew Gunstone
At these campus visits, which attracted large numbers of academic and professional staff, Professor Gunstone also called for expressions of interest from staff to join several campus-based reconciliation groups he will be establishing in 2023.
He said it is important to create these groups given the geographical spread of the university, with campuses in Ballarat, Berwick, Brisbane, Gippsland, and Horsham. These groups will engage with local communities, drive campus reconciliation initiatives, and liaise with the RAP Working Group.
Professor Gunstone also said that while many staff have significant experiences working in this space, it was important that people understood that they did not need to have experiences in reconciliation matters to join these campus groups.
"People sometimes can feel a bit unsure about getting involved in this space and think they have to have lots of experience. However, we will provide significant professional development to increase people's cultural competency and knowledge. What we are really looking for are people who are committed to this work and are interested in engaging in this space," Professor Gunstone said.
Professor Gunstone says Federation is strongly positioned to be a national leader in reconciliation. His other key priorities include leading the development of a new RAP and continuing his state and national reconciliation leadership roles, including being Co-Chair of the Board of Directors of Reconciliation Victoria and also Co-Chair of the National University RAP Network.
Professor Gunstone has reviewed Federation's 2019-22 RAP, which expired in June, and is committed to leading the development and implementation of an innovative and strategic RAP that embeds reconciliation across the university.
"There were some excellent targets in the 2019-22 RAP, but many of them fell on the Aboriginal Education Centre. The new RAP will flip this as nationally leading RAP organisations need to commit to embedding reconciliation throughout all areas of the organisation," Professor Gunstone said.
Professor Gunstone says Australia faces several pivotal moments in its reconciliation journey in the next few years, including a constitutional referendum on a Voice to Parliament in the second half of 2023. Enshrining a Voice in the constitution, as called for in the Uluru Statement from the Heart, will enable Indigenous people to advise Parliament on policies and laws that impact on their lives.
"It is critical this nation accepts the generous invitation of the Uluru Statement from the Heart and grasps this once-in-a-generation opportunity to change the constitution. As we have seen with the 1999 constitutional referendum on a republic, a failed referendum sets back these opportunities for decades," Professor Gunstone said.