Entrepreneur on a mission to create positive change
17 October 2019
---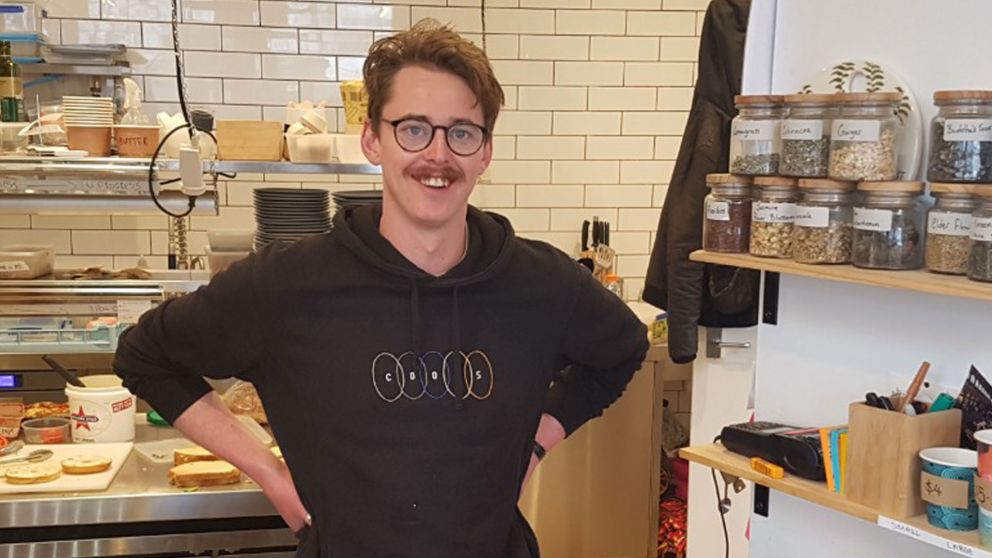 Sam Brown says he has always been impatient.
The social sciences student runs a cafe and catering business and dabbles in graphic design while he chips away at other projects and ideas which he hopes will shape the next phase of his working life.
It is this entrepreneurial streak that attracted the 26-year-old to the area of study. He wants to make a positive impact to generate change in the communities where his projects operate.
One of Sam's projects is a pop-up bar in a shipping container called Pickles that he uses to invigorate spaces around Ballarat.
"I think I've always been pretty impatient," Sam said.
"I started my first business at 19 – it sounds really good but it doesn't necessarily mean I'm making millions of dollars, but it's a lot of fun."
Sam and his business partners operate the Workshop Cafe in the redeveloped Flecknoe Building at Federation University's SMB Campus, continuing a link with the University that began when he studied graphic design at the Camp Street Campus.
The Workshop Cafe uses local produce, composts its waste and strives to eliminate its carbon footprint.
"I always wanted to take my existing businesses and apply a social filter to them, to use them to create positive change in our community," Sam said.
"My philosophy is to do good in our community by being generous, kind and ethical. We've found that this approach has enabled us to grow and made our businesses financially more prosperous".
Starting and running a cafe seems a like a good fit for someone who had his first coffee making job at 14. In between, he started a graphic design business and was soon thinking about combining his hospitality and creative skills.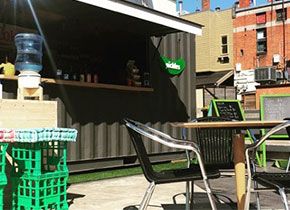 "I had this whacky idea to build a blank container bar that, with my design background, I could lease out to people and put their logo on it," Sam said.
Pickles began when he approached the City of Ballarat Council with the idea of becoming the official venue for the Archibald Prize when the prestigious exhibition was in Ballarat during 2015.
The successful run saw the shipping container venue continue in the SMB Campus courtyard, but come winter when it was packed up, "there were all these peeved off people that couldn't get their coffee".
And the exercise wasn't without setbacks. Working with the council for a pop-up had never happened in Ballarat before, Sam said.
"We'd say, 'here's what we want to do,' and they'd be perplexed," Sam said.
The hurdles included building permits that could not be initially satisfied but relationships were built with the council and the project was soon off the ground.
The original Pickles was ultimately sold to the Maribyrnong City Council but the coffees kept coming when Sam and his business partners Meg Boschert and Zoe Cleverdon opened a cafe in Prospects – the training restaurant for hospitality students at SMB. They was leasing the space from the University when refurbishment work began on the Flecknoe Building.
"We put our hand up to operate in there – there were a few interested parties but we managed to get the deal," Sam said.
With a team running the cafe and catering business and a graphic design business which allows Sam to pick and choose projects, he is ready to follow his passion.
"Consultancy and space activation is where our real passion lies," Sam said.
"That's the big one. I'll always do design because I love to be creative but I think this is our million-dollar idea – it's probably our 100th million-dollar idea. Sam Brown
"Ballarat's definitely on the up and growing, particularly around food, and we can plan for that. You really feel like you can be ahead of the eight ball here.
"I love Ballarat and when we talk about the activation plans, I'm a lot less interested in doing that elsewhere."