Doing the hard yards, the Radford way
9 November 2021
---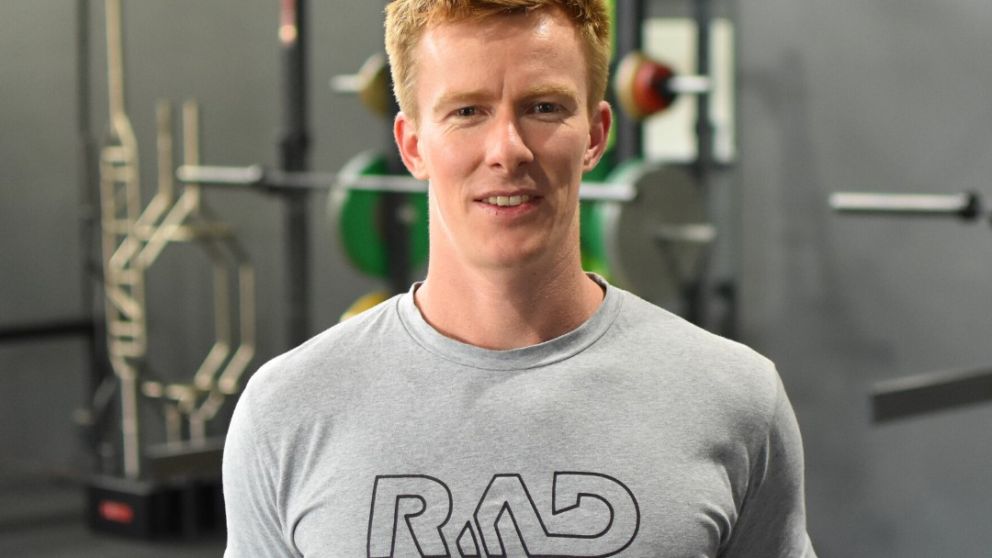 By Oscar Owens
As the Western Bulldogs AFL Assistant Strength and Conditioning coach and VFL physical Performance coordinator for three years, Chris Radford was entrusted to get players ready and raring to perform at their peak in the pressure cooker environment that is AFL/VFL football.
It was an opportunity he relished and provided many "pinch me" moments.
"I was able to work with some of the best athletes in the country and play a role helping them perform on game day. It's something I will never forget," he said.
The opportunity to be trusted to work in an environment where a soft tissue injury for a star player on a big-money contract can sometimes be the difference between a team's failure and success wasn't something he was gifted. It was earnt with a lot of hard work, hitting the books and embracing the work-integrated learning opportunities he had while completing his Bachelor of Exercise and Sports Science degree and Honours at Federation University.
A Horsham College student, Mr Radford's step into exercise and sport science came from typical origins.
"Through high school, I just had a real passion for sport, I was an OK athlete but wasn't going to make it at the next level, but I really wanted to play a role in helping others get there."
As a part of his degree, he took placement opportunities that saw him develop his skills to a point where he could take on roles that tested and developed his practical skills and knowledge base.
During his studies and after graduating, he compiled an impressive body of work that saw him responsible for the physical performance of athletes in a range of sports, including the North Ballarat Rebels (Now GWV Rebels), Ballarat Pride netball team, the Bendigo Academy of Sport, North Ballarat Roosters VFL team, West Vic Academy of Sport and the Western Bulldogs.
Now, most of his energy is focused on his role as director and physical performance coach for his business, Radford Athletic Development (RAD). From humble beginnings, RAD has grown to become a unique resource for Western Victorian athletes, both elite and developing.
"Initially it wasn't supposed to be anything. I just bought some second-hand gear off Gumtree and set it up in my garage and invited some mates around to train. It then became a place to practice some of the theoretical knowledge from the degree and test it out. Slowly mates told their friends, and it has gradually grown since," he said.
RAD's growth now provides Mr Radford with the pinch-me moments he had with the Western Bulldogs. The purpose-built strength and conditioning facility is considered as good as any in Australia.
"The first time I walked into what we call RADcentre 3.0 at 5:30 am with my dog Jimmy, we had shifted out of our little garage into the big warehouse and it was an amazing feeling that continues to bring me satisfaction."
One of the key drivers for the RAD's growth was the belief that athletes based in regional Victoria should be afforded the opportunities of their city-based competitors.
"The biggest thing is trying to offer regional athletes the same support and services which those in metro Melbourne can access. The same applies to our staff. Previously local professionals would have to leave the area to find work. To now play a role in keeping local talent here developing the region's athletes is awesome."
He also provides employment and placement opportunities for Federation University students, particularly those keen to put in the hard yards to progress in their careers.
"When I went through uni, I had some influential mentors who helped me on my journey, so I guess it is now me just paying that forward. The other part is that I had to travel a lot to gain some of my placement experiences, whereas now we can produce those experiences locally for the next batch of students coming through."
Another motivator for Mr Radford and his work at RAD is the pride he gets in seeing athletes he works with achieving their goals, whether performance-based or rehabilitation back from injury.
"Seeing an athlete's hard work pay off with the successes in their chosen sports is what I enjoy most. It's also super rewarding helping someone return from a serious injury — from when they lose their sporting identity after suffering the injury right through until the moment they finally get back onto the field of play is a fantastic journey to be a part of."
While RAD provides athletes with a facility to maximise their potential, Mr Radford has identified three key ingredients he feels an athlete needs to bring to the centre to reach their potential through his work with thousands of athletes.
"To consistently commit to the training process, be eager to learn more about their bodies and ensure that hard work compliments their natural talent."
Combined with Mr Radford's skills, knowledge and passion for seeing his athletes succeed, this is usually a recipe for improved performance.
An Australian Strength and Conditioning Association Level 2 coach, he takes a genuine interest in his athletes as people, and it is something he would advise other professionals in the industry to do as well.
"People don't care how much you know until they know how much you care. Athletes don't really care that you know every muscle involved and its insertion and origin — they want you to have some genuine interest in them. It's incredibly important to be able to build a relationship with your athletes — we are in the relationships game."
In addition to being a place people can train, he is strong to point out he sees RAD's purpose as a community resource, something he promotes through social media platforms.
"The whole strength and conditioning field is still relatively new in the whole scheme, particularly in regional areas — so we want to play a role in creating engaging educational content to highlight why we do what we do. Our aim is also to add value to the community and increase their knowledge on how to prepare for their sport or return from an injury."
RAD's website and Instagram page @RADcentre are valuable resources for athletes of all sports, housing training tips, skills drills and even healthy eating recipes for aspiring athletes.
You can learn more about Chris Radford and his journey through Exercise and Sports Science at the Federation University Bachelor of Exercise Science ASK Me session on Thursday 11th November at 5:30 pm. Chris will be joined by panel members including Federation University lecturers Jacqui Pengelly and Dr Mat O'Grady, and accredited exercise physiologist Kelsey Long.
For more information visit: https://events.federation.edu.au/event/registration?id=Careers_in_Sport_and_Exercise_Science_Live_AMA_Session749827830
Oscar Owens is a lecturer in the Exercise Science discipline at Federation University