Creative activation and renewal for urban Mechanics' Institutes
15 April 2021
---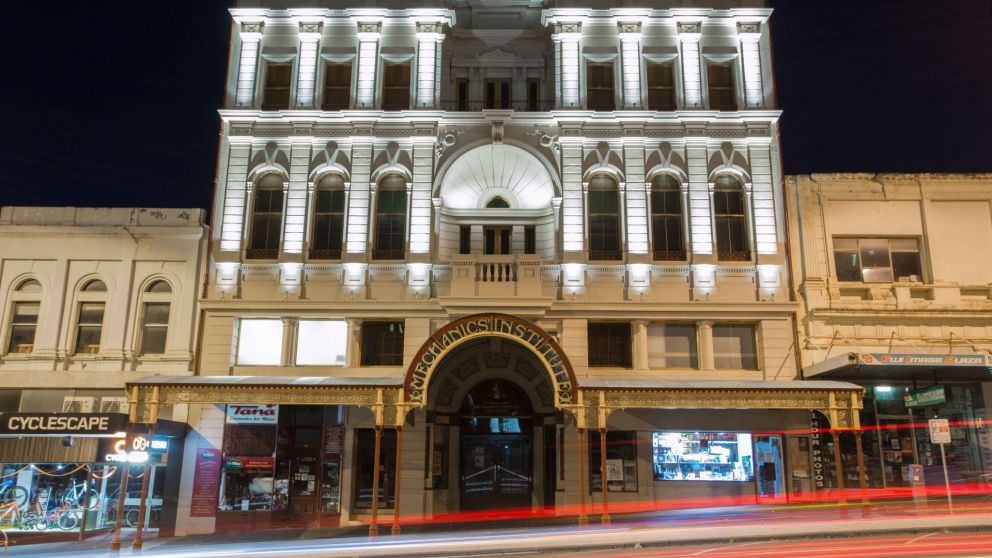 By Dr Amy Tsilemanis
Many people will have seen one of the quaint old buildings bearing the name Mechanics' Institute while out on a country drive or perhaps visited one for an event, but the meaning of these institutes has largely been lost in the twenty-first century.
This is partly because of the name, which in the 1800s mainly referred to tradesmen who 'worked with their hands' and who were the original audience for the institutes and their technical and mechanical books and classes, sharing what they called 'useful knowledge'.
Mechanics' Institutes were independent organisations that offered subscription library and learning services to communities before formal schooling and libraries run by governments. They also became important local meeting places for social events and cultural happenings.
The first institutes were founded in Scotland in the early 1800s, based on egalitarian access to knowledge, and spread around the UK, America and Canada, and Australia.
In Victoria, there were up to 1,000 institutes by the 1940s, and while many are now gone or no longer serve their original purpose, many of the buildings — some humble halls, some with grand facades — can be seen dotted around country towns and regional centres. In the city too, the Melbourne Athenaeum on Collins St was originally called the Melbourne Mechanics' Institute, founded in 1839.
The Ballaarat Mechanics' Institute (BMI) opened in 1859 and has retained the original 'double a' spelling of the city's name and is one of the grander examples of a regional institute, having been built on gold rush wealth.
It is housed in an iconic heritage building in the centre of Ballarat and has a heritage library containing one of the most intact examples of a Mechanics' Institute book collection, along with a large hall and other spaces rented out as part of an operating income.
Major renovations were undertaken in the early 2000s, and funds have been raised for such projects from local, state and federal governments and philanthropic sources. Yet the question remains — who and what is this place for?
I took the BMI as a case study from the position of practice-led research as curator there and placed this alongside four similarly sized urban Mechanics' Institutes — Sydney, Melbourne, Prahran, and San Francisco. I also positioned my study of Mechanics' Institutes within the GLAM (galleries, libraries, archives and museum) sector to draw parallels and provide context both historically and contemporarily.
Over time, the emphasis on trades and technical knowledge moved more towards popular books in the library, art classes, and public entertainment and lectures, and some institutes — like the Melbourne Athenaeum — changed name to reflect this. Others like the BMI retained its name and link to founding aims, despite changes to audiences and criticism for maintaining the structure of what could appear as a private club.
Names, like buildings, act as identifiers and signs, which can be problematic when they have long been part of the heritage and identity of historic institutes. But they can also be reimagined in contemporary contexts, for example, San Francisco linking the mechanic to the modern maker movement and an interest in craftsmanship and the handmade in industrial society.
Taryn Edwards, librarian, historian and the strategic partnerships manager there, remarked that "the new phrase now is makers, and the maker movement. People start to think, 'oh yeah, I'm a mechanic — I'm a woodworker or a writer or an artisan baker'."
Issues of public perception, funding and purpose, have persisted to today, but that also provides possibilities for renewal. This research explores how the amazing resources of Mechanics' Institutes' buildings, collections and stories might connect more with diverse publics and be relevant in today's world.
It asks how they can be more open, more creative, and more inclusive, following important discussions and change in the GLAM world. This, in large part, comes down to dynamic and innovative leadership, also explored in the research, but some of the examples at institutes studied include artist in residencies (Melbourne Athenaeum) and grant programs (Sydney Mechanics and School of Art); and partnerships with local kindred festivals and businesses (San Francisco Mechanics' and the Prahran Mechanics' Institute).
As curator at BMI, one exhibition project invited artists of diverse backgrounds to respond to the collection as part of a city-wide photography festival, and others invited community contribution to the collection through creative projects and oral histories. These events blend heritage and creativity to bring alternate perspectives and links between past and present through collections and collaborations. They also invite organisations toward ongoing reflection on how their offerings connect and are relevant to their contemporary communities and city life and inspire new ways of thinking and operating.
The three-year curatorship and practice-as-research at BMI has been captured in a photo book that can be viewed along with other multimedia relating to the project, and is an offer of celebration and inspiration in creative activation.
Dr Amy Tsilemanis recently completed her PhD Creative activation of the past: Mechanics' Institutes, GLAM, heritage, and creativity in the twenty-first century. The research was supported by industry grants from the Ballarat Arts Foundation and Sovereign Hill.