Controlling the controllable: A student's journey through the COVID-19 landscape
23 July 2020
---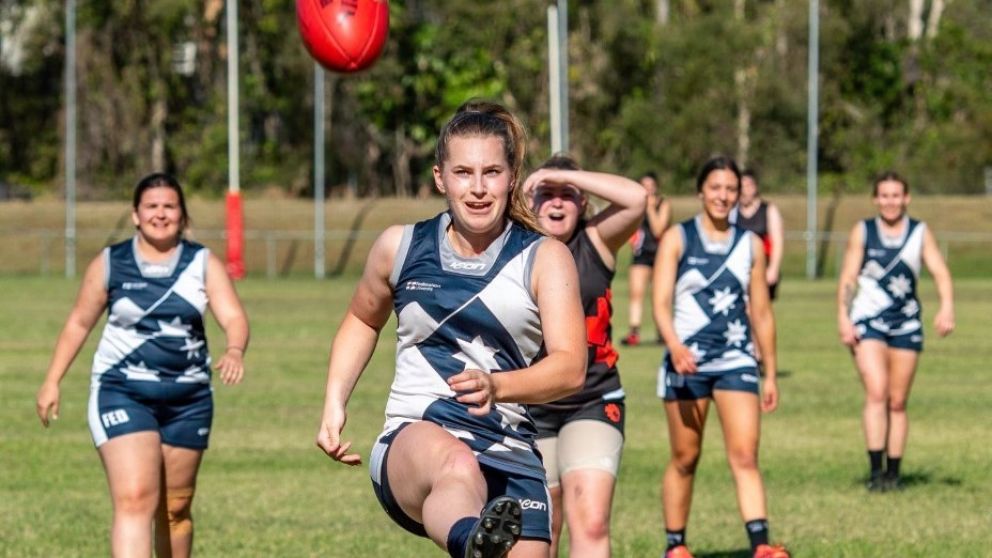 By Oscar Owens
In less than 14 weeks Federation University Australia student and Ballarat local Gemma Foord expects to submit the final assignment of her Bachelor of Exercise and Sports Science degree after beginning her tertiary study journey in February of 2018.
In the first two years of her degree, Gemma embraced university life doing all the things she had looked forward to when beginning her degree. A passion for sport and socialising was the perfect mix for her to maximise many of the opportunities presented to university students that encourage connection and collaboration with other students.
She loved Orientation Week fun, face-to-face interaction in classes, representing the university in football and basketball at the UniSport Nationals and diligently performing her role as a sports ambassador, a role that sees her recruiting others to combine their sporting passions with study by linking into some of the university's sporting clubs and societies.
Like many other tertiary students across the world, this year has been very different to the one she imagined it would be when she attended face-to-face classes in week one of 2020. The impact of the COVID-19 crisis has temporarily changed 'on campus' student life, something Gemma initially found challenging to deal with.
"It's wasn't an ideal situation but eventually I started to feel okay about it. I was keen to at least have blocked face-to-face practical sessions however with the increase in COVID cases my classes were converted to fully online delivery," she said.
To deal with the situation Gemma took a pragmatic approach.
"I kept reminding myself that the situation was out of my control, that it could be worse and that it would eventually get better – all I could do was do my best with the situation we were in, be flexible and adapt and be grateful for the technology and health that I thankfully have."
Her balanced, grateful perspective was coupled with a disciplined study approach.
"I tried to stay organised, completed the weekly tasks in my normal scheduled face-to-face class time and had a checklist for what I needed to complete for each subject, each week so that I didn't get behind," she said.
"I managed to keep up to date with the lectures, scheduled video chats, and weekly attendance tasks that we had to complete or attend. To have a clear idea of what needs to be completed and perhaps create a study timetable that works for you and your life commitments is something good to do. It provides a structured plan for the semester. It did take a lot of initiative and motivation to stick at it but there were other things I did to try and stay motivated.
"I also ensured that I stayed in touch with my uni friends. Reaching out to help each other out throughout the semester was important to me. The use of online social sites has been valuable for this and something I would strongly encourage first year students, who perhaps don't know their peers that well, to consider. I have mainly talked to mates via Snapchat or Facebook Messenger. Our year level cohort has a Facebook Messenger group chat that we have used to do things like check in on each another or share reminders for assignment due dates throughout the semester – things like that." Gemma Foord
Another strategy was to make sure that she continued to do the other things in life that she enjoyed and encouraged balance, something she would encourage others to do.
"It's important to keep doing activities and hobbies that keep you sane and allow you to unwind from uni studies – especially if you have to isolate at any point. During the initial lockdown playing guitar, exercising and catching up with friends either in limited numbers face to face or online gave me a chance to chill out. More recently it's been great to have the footy to watch on TV and the online UniSports challenges advertised on @fedunisport have also been fun."
As many students begin semester two transitioning to online learning due to further COVID-19 interaction and movement restrictions Gemma offers the following advice: "Doing the best you can with what you have got should help to maintain a positive mindset. It's important to be thankful that we have the technology that allows us to still complete our tertiary education and allows us to continue keeping in touch with each other in a time like this."
Oscar Owens is an Exercise and Sport Science Lecturer and Academic Advisor in the School of Science, Psychology and Sport. Learn more about Federation University's online sporting opportunities here.