Bowel cancer breakthrough shortlisted for immunology award
18 October 2019
---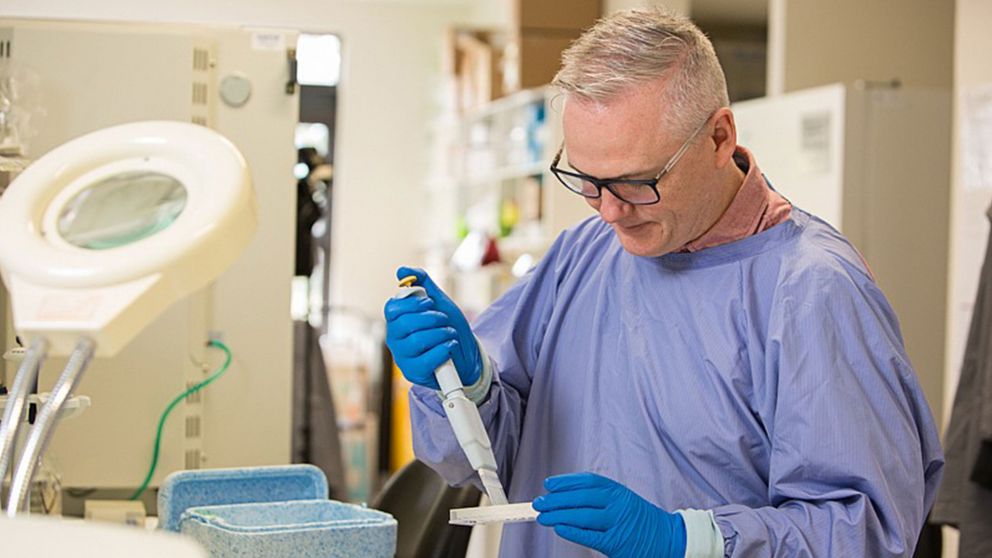 A breakthrough study by Federation University researchers that found immune cells in the walls of the bowel can release chemical messengers to promote bowel cancer has been shortlisted for publication of the year by a leading immunology journal.
The research – Chronically stimulated human MAIT cells are unexpectedly potent IL-13 producers – was recognised as an 'Outstanding observation' in the international journal Immunology & Cell Biology, the scientific journal of the Australian and New Zealand Society of Immunology.
Mucosal Associated Invariant T cells, or MAIT cells, are especially prevalent in mucosal tissues like the bowel and lung. Their primary role is to detect microbes like bacteria and yeast and to regulate the immune response against these pathogens.
All previous research has shown that stimulated MAIT cells promote inflammatory responses that fight bacteria, and there was some evidence they could also suppress and eliminate some forms of cancer.
However, researchers at the Fiona Elsey Cancer Research Institute (FECRI) in Ballarat found that after a prolonged period of stimulation, MAIT cells switched the type of chemical messengers they were producing and began to release interleukin-13 (IL-13). IL-13 alters the immune balance away from an anti-bacterial or anti-cancer response and triggers the surrounding tissue lining cells to make more mucous and to suppress nearby immune cells.
FECRI researcher and Federation University PhD candidate Jason Kelly, who conducted much of the research, said this was significant in early bowel cancer as it could dampen important anti-cancer immune responses, while also helping cancer cells to grow faster and stronger.
There have been many studies of bowel cancer showing that MAIT cells are present at the tumour site.
"Everyone thought MAIT cells could help to attack the cancer but it appears they may not be not functioning the way everyone expected," Mr Kelly said.
"It turns out that after prolonged stimulation they can turn into the bad guys." Jason Kelly
Most bowel cancers grow out of polyps which are small growths in the bowel lining. These create small breaks in the protective lining of the bowel, which allow bacteria to seep into the tissue.
"Initially the MAIT cells would direct the immune system to release chemicals that fight bacteria, potentially also killing early cancer cells in the process," Mr Kelly said.
"But polyps don't go away and the bacteria are still there crossing the mucosal surface, so we believe that this prolonged stimulation of MAIT cells could cause them to modify the types of chemicals they release.
Federation University Professor Stuart Berzins, who is Mr Kelly's supervisor, said the study findings had been well received at national and international conferences, including at a recent presentation at Oxford in the United Kingdom, which resulted in his team being invited to write a discussion article for another scientific journal.
"Peer review of data by international experts is an important part of advancing medical knowledge so it was reassuring that our findings were so warmly received by our colleagues," Professor Berzins said.
"In our next stage of this project, we will be working collaboratively with researchers at the University of Melbourne to develop new treatment strategies that specifically target these misbehaving cells."
Mr Kelly said the initial finding was made in late 2017 when his data did not agree with published reports that stated that MAIT cells could not make IL-13.
"We realised that other groups around the world had only stimulated MAIT cells for short periods of time, generally overnight, which is why this later IL-13 response was never detected before".
He said the discovery came after cells he was working on were stimulated for more than two weeks.
"When we first detected a large amount of IL-13, I thought I'd made a mistake," Mr Kelly said.
"But we were able to repeat the result in follow up experiments and we began see how this response could occur biologically."
Bowel cancer is not the only disease which could benefit from the discovery. Many other human inflammatory conditions are regulated by IL-13 and show chronic changes in MAIT cells.
"It's not just bowel cancer where this discovery could be important because inflammatory lung diseases, such as asthma and COPD (chronic obstructive pulmonary disease), inflammatory bowel diseases and different skin conditions are all impacted by IL-13 and we already know that the areas of the body affected by those diseases have MAIT cells present in large numbers," Mr Kelly said.
"But, until now, no one knew that MAIT cells could be such a large source of IL-13"
Mr Kelly will present the group's research at the Australia and New Zealand Society of Immunology annual conference in Adelaide in December.