Another chance to live the Phantom dream
30 March 2021
---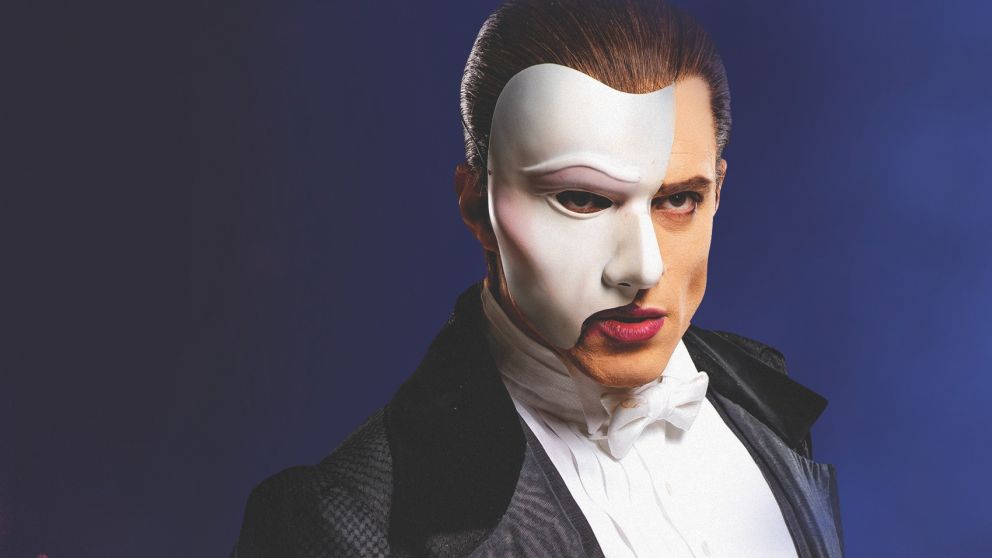 Josh Piterman is getting a second chance to live his dream.
The musical theatre performer played the Phantom in the West End production of The Phantom of the Opera, a role that he had coveted as a teenager when singing along to Anthony Warlow CDs, trying to nail The Music of the Night.
He was six months into the role when the COVID-19 pandemic put an abrupt end to show and to London's vibrant theatre scene. The cancellations, of course, spread across the globe.
The Arts Academy alumni and his partner, Scottish singer and songwriter Charlotte Black, managed to return to Australia in late November last year and only planned to be here for a few months. The process wasn't without its challenges, with Charlotte having difficulties securing a travel visa and the availability of seats on flights to Australia limited and prohibitively expensive.
The move back to Australia was an acknowledgment that the UK's situation was not looking like it would improve anytime soon after the announcement of a strict second lockdown. Josh had a role in the Queensland Performing Arts Centre production Spirit of Christmas with the Queensland Symphony Orchestra before he took a call from Opera Australia's artistic director Lyndon Terracini.
"He called me on Zoom with the news that Phantom would be on at the Sydney Opera House and asked if I was interested in taking on the role again."
"I said,' Are you kidding me? Of course I am'. I cannot believe that this show is going to be at the Sydney Opera House. There could not be a more iconic spot for arguably the most iconic musical."
The Andrew Lloyd Webber musical is one of the most successful shows of all time and is the longest-running musical in Broadway history. It premiered at London's Her Majesty's Theatre in 1986, with Michael Crawford in the lead role.
The Cameron Mackintosh produced show is also expected to be a boon for New South Wales, with more than 10,000 theatre and travel-starved visitors expected in Sydney during September and October for the show's run.
Josh said he kept positive despite the lockdowns and the massive hit the industry took, confident the situation would "turn around at some point".
"I had been in the role for six months when COVID hit, and it was so hard when it happened because we had no idea how long we'd be off the show. We were told a week, then four weeks – then it hit a point where we were told no one knew when the show could open," he said.
"That was just a tough pill to swallow at the time. Personally, the role was a dream come true, a dream that I'd had since I was 17, and when it happened, it was devastating. And I was devastated for the cast, for the people who had been there for as long as I had, and the people who have been on the show since it opened in 1986. Everyone has their own history and journey with the show. Josh Piterman
"You keep expanding the radius of upset and pain, and you think about everyone else on the West End and their shows, and then everyone on Broadway, everyone back home and everywhere around the world."
The gloom that came from the uncertainty and chaos caused by the pandemic has made the last few months all the sweeter for the couple who have been staying at a friend's cabin at Mt Macedon because Josh's Melbourne property had been rented. The couple, who at times have had to live apart for work, were also engaged.
"We had to make plans to stay, and a dear friend knew we were in a pickle and said we were more than welcome to stay in the cottage for as long as we needed. What a part of the world to be, it's gorgeous here and a beautiful place to propose," he said.
Now, they can't wait to get to Sydney. Tickets will go on sale in April, and rehearsals will start in July.
"I think people are hungry to get back to the theatre, we've been without it for a year, and I'm really excited to be part of getting theatre back on the main menu for Australians. It's pretty amazing to get to do it again in my home country and in the Sydney Opera House – it's another episode in the dream coming true," he said.
"For Phantom to be the first show after finishing a year ago, and for it to be here in Australia and for me to be here when they were looking at casting – I can't believe it really. It's like it's too good to be true, even though I know it is true."