Deputy Chancellor, Ms Rhonda Whitfield
Position on Council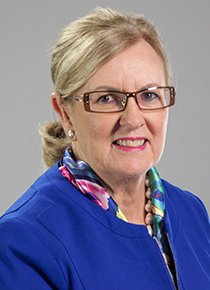 Governor in Council appointee, Deputy Chancellor, Chair-Inclusion Committee
Present occupation
Non-Executive Director, Mediator, and Executive Mentor
In addition to her current role on Council, Rhonda holds directorships for a group of retail pharmacies, a Melbourne retirement community and home care services provider, and an internationally aligned Australasian association of elder mediators. More recently, Rhonda was the former Board Chair of a Victorian service for people with intellectual disabilities.
Academic qualifications
Graduate Diploma Business Administration (GDBA), Australia / New Zealand Mediator Accreditation Standards (NMAS) and Registered Nurse (RN)
Summary of previous experience
Rhonda is an accomplished non-executive director with governance experience of for-profit and not-for-profit boards in the sectors of technology, health, disability, art, sports, parks, aging/aged care as well as Victorian government emergency services.
Her practical application of rigorous governance is underpinned with current, sector-specific governance skills development for higher education, aged care, disability services and Victorian Government health networks. This skills development has been in addition to for-profit governance education through the Australian Institute of Company Directors and many years of applying effective governance while a director of many organisational boards.
Rhonda's dedicated and constructive approach to good governance, mediation and executive mentoring followed a flourishing, senior business executive career within international and national information and communication technology, global pharmaceuticals, and health-related organisations. She was admitted as a Fellow of the Australian Institute of Management, in 2005.
Particular areas of expertise / interest
Diversity, belonging and equity, quality and clinical governance, business strategy, marketing and general management
Access to non-judicial justice and social justice especially for people with intellectual disability, frailty and vulnerability associated with aging.
Neuroscience and human-centred innovation